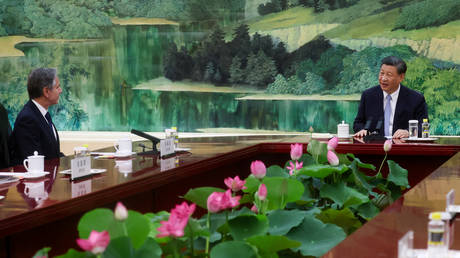 The world is big enough for both Beijing and Washington to prosper, the Chinese leader says China's President Xi Jinping accepts US Secretary of State Antony Blinken at the Great Hall of the People in Beijing. © AFP / Leah Millis
Stable relations between China and the US are vital for the international community, which doesn't want to choose sides between the two countries, Chinese President Xi Jinping said during a meeting with US Secretary of State Antony Blinken in Beijing on Monday.
"Planet Earth is big enough to accommodate the respective development and common prosperity of China and the US," Xi told Blinken, according to a statement by the Chinese Foreign Ministry.
The Chinese leader said that the world is interested in "generally stable" ties between Beijing and Washington, because "whether the two countries can find the right way to get along bears on the future and destiny of humanity."
The international community expects China and the US to "coexist in peace and have friendly and cooperative relations," and doesn't want to choose sides in the event of a conflict, Xi stated.
The Chinese president argued that competition with Beijing would not help Washington to solve America's domestic problems or the challenges currently facing the world. "China respects US interests and does not seek to challenge or displace the US," Xi stressed, adding that Beijing expects the same approach from the Biden administration.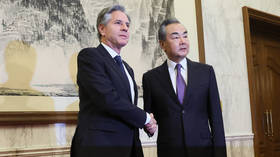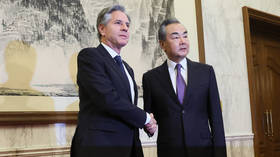 Xi called on the US to adopt a rational and pragmatic attitude towards China, and to jointly work on improving ties and making the global situation more stable.
The Chinese Foreign Ministry said that Blinken had assured Xi during their 35-minute talk that the US does not seek conflict or a new Cold War with Beijing, and has no intention of trying to change China's political system.
Washington expects to continue high-level engagement with Beijing, while keeping lines of communication open and managing differences responsibly, the top US diplomat said, according to the Chinese statement.
Blinken is the first US secretary of state to meet Xi since 2018. He was initially scheduled to arrive in Beijing in early February, but the trip was postponed due to the so-called "spy balloon" scandal. The US claimed it had shot down a Chinese surveillance aircraft over its territory, while China insisted that the object was a weather balloon which had strayed into American airspace by accident.
The two-day visit by Blinken also included a meeting with Beijing's top diplomat, Wang Yi, earlier on Monday, as well as talks with Chinese Foreign Minister Qin Gang on Sunday. (RT)
Azərbaycan24 sosial şəbəkələrdə