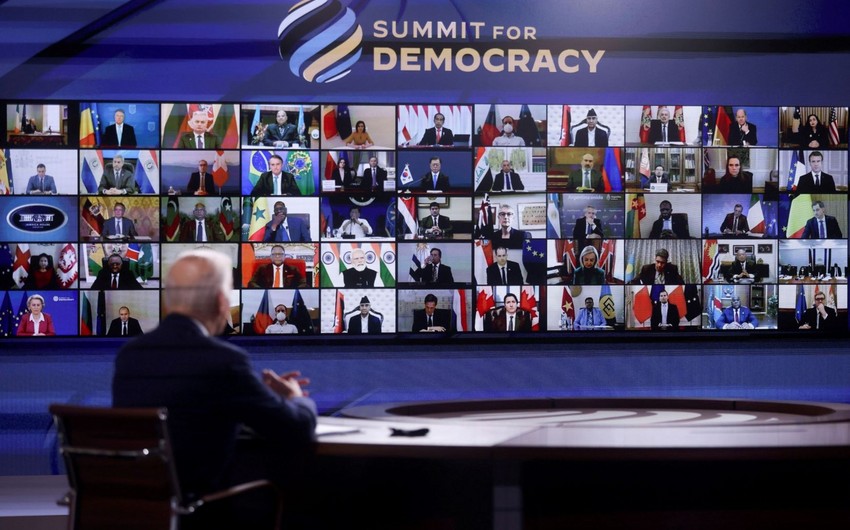 President Joe Biden's second summit for democracy, which is taking place this week, is both virtual and surreal, reads an article by Edward Luce published in the Financial Times, Report informs.
"If the US has taken to heart one big lesson in the 21st century, it is that democracy is not created at gunpoint. The 20th anniversary of the Iraq invasion reminded Americans of that. It does not follow that the safe space of Zoom will fare better," reads the article.
Among the participants are India, which is in the process of jailing opposition leader Rahul Gandhi on a trumped up defamation ruling; Israel, whose leader, Benjamin Netanyahu, wants to shut down judicial independence; and Mexico, whose leader, Andrés Manuel López Obrador, is trying to end free and fair elections. With friends such as these, democracy hardly needs enemies.
"It is difficult to believe a liberal democratic Russia would have invaded Ukraine. It is equally hard to imagine the people of an autocratic Ukraine fighting as fiercely for their freedom as they are doing now. It is thus reasonable for the US to think that spreading democracy is in its national interest. The problem is that America is not very good at it," the author noted.
"The only unqualified success in US democracy promotion was the Marshall Plan for postwar Europe.
As India's foreign minister, S Jaishankar, put it last year: "Europe has to grow out of the mindset that Europe's problems are the world's problems, but the world's problems are not Europe's problems." What Jaishankar really meant, of course, was the west as a whole. But he was careful to exclude the US, just as Biden is careful not to mention India's democratic backsliding. Each needs the other to counter China."
Azərbaycan24 sosial şəbəkələrdə