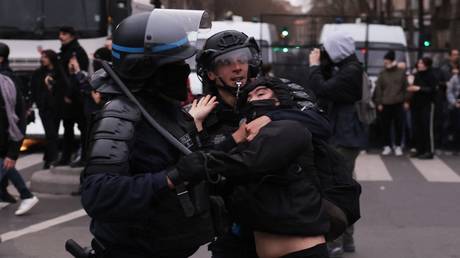 Demonstrators and journalists were arbitrarily arrested and subjected to extreme tactics, the CNCDH says Police officers clash with a protester during a demonstration in Paris, France, March 23, 2023 © AFP / Thomas Samson
France's national human rights commission has condemned the police's handling of a recent wave of anti-government demonstrations. The organization said peaceful protesters were herded into "traps" and summarily arrested during rallies against President Emmanuel Macron's decision to increase the retirement age.
In a statement on Thursday, the French National Consultative Commission on Human Rights (CNCDH) said that, of the 292 protesters arrested on March 16 in Paris, only nine were prosecuted. This indicates "an excessive use of police custody" in order to stifle legitimate protest, the organization claimed.
Two journalists were arrested at a protest the following day. The CNCDH pointed out that journalists are not required to comply with orders from police to disperse.
Additionally, the organization noted that police used "trap" tactics to corral large groups of demonstrators in violation of a 2020 police reform bill. These tactics can result in innocent protesters being held in place by riot police for hours on end, and are permitted by the European Court of Human Rights only in cases where there is "a real risk of serious harm to persons or property."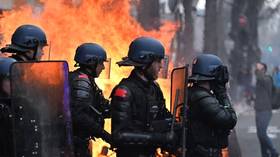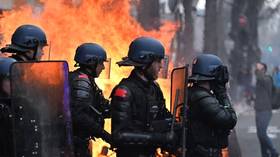 Read more
Over a million protest Macron's pension reform across France
"Increased police repression cannot be the appropriate response to the political and social problems the government is currently facing," the CNCDH report stated. "France's credibility on the international scene depends on it."
Macron's government used executive privilege to pass a pension reform bill without a parliamentary vote on March 16. The bill – which raises the retirement age in France from 62 to 64 – had already been condemned by trade unions and opposition parties, and its passage triggered nationwide protests and riots.
More than a million people took to the streets on Thursday, with rallies in Paris degenerating into violence as rioters hurled rocks and molotov cocktails at officers. Police responded with tear gas and water cannons, and more than 450 people were arrested nationwide, most of them in the capital. Demonstrators lit more than 900 fires on the streets, and 441 police officers were injured, Interior Minister Gerald Darmanin said on Friday morning. (RT)
Azərbaycan24 sosial şəbəkələrdə