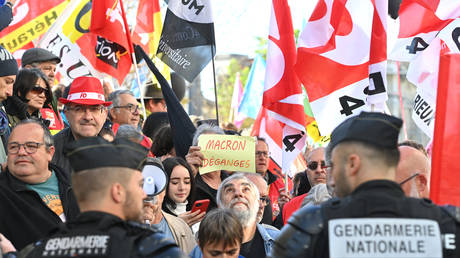 Residents had brought pots, pans, and other metallic objects into the street to voice their disapproval of President Emmanuel Macron © AFP / Sylvain Thomas
French police in the village of Ganges confiscated saucepans and other metallic cookware from protesters on Thursday after hurriedly adopting a regulation banning "portable sound devices" ahead of a visit from President Emmanuel Macron.
The French leader is currently touring the nation to defend his unpopular pension reforms.
Video posted to social media shows police officers opening backpacks and ordering protesters to ditch their cookware. When one complains such restrictions are illegal, the officer retrieves a piece of paper from his car, presumably bearing the brand-new edict forbidding "entertainment devices." Demonstrators were also reportedly forbidden from bringing small flutes anywhere near the school where Macron was to speak.
The Herault prefecture rushed to impose the ban on "any sound device that is portable or emanating from a vehicle that has not been duly authorized" within the security perimeter of the areas to be visited by Macron just hours before his visit on Thursday, hoping to protect the head of state from the chorus of metallic banging he faced during his first event in Alsace.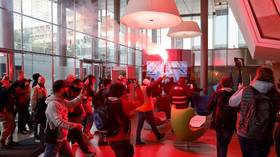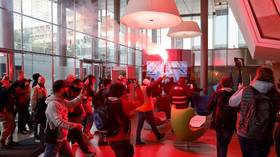 Read more
French protesters storm stock exchange (VIDEO)
While authorities insisted the snap edict was a "common police measure" meant to target amplifiers and speakers, experts questioned the legality of confiscating pots and pans, noting that the hastily adopted decree banned the use of the devices, not their possession.
Macron's political opponents seized on the pan ban's overreach. "Is it possible to get out of a democratic crisis by banning saucepans?" Green Party MP Sandrine Rousseau asked. Communist Party spokesman Ian Brossat said he was "impatiently awaiting the bill which will prohibit the sale of saucepans."
Asked whether he would face the demonstrators, Macron responded that he would do so only "if people are ready to talk."
"Where I'm from, eggs and pans, these are for cooking," the president quipped.
Macron later attempted to further marginalize the protesters, declaring, "it is not saucepans that will move France forward."
"The person who is preventing France from moving forward is [Macron]," Chloe Bourguignon, the secretary general of regional union UNSA Grand-Est, told FranceInfo. "It shows great contempt to say such a thing, particularly after all the messages of provocation that he has sent in the last few weeks."
After the pension reform package became law this week, Macron ordered his government to "restore peace" over the next 100 days, vowing not to back down on raising the retirement age by two years even though the legislation is opposed by more than two-thirds of the French population. (RT)
Azərbaycan24 sosial şəbəkələrdə