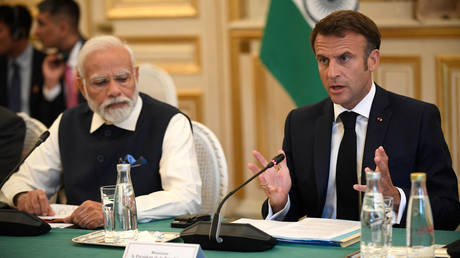 The plan seeking to break the deadlock in the conflict will be different from previous similar initiatives, the paper has reported France's President Emmanuel Macron speaks as India's Prime Minister Narendra Modi listens on during a meeting at The Ministry of Foreign Affairs in Paris on July 14, 2023. © JULIEN DE ROSA / POOL / AFP
India and France have joined their efforts to develop a new plan seeking a peaceful settlement of the fighting in Ukraine, Le Monde reported on Saturday.
The stage was set for the new apparent attempt to resolve the conflict when French President Emmanuel Macron met with Indian Prime Minister Narendra Modi in Paris earlier this week.
During the meeting, Macron signaled that he wanted the two countries to work together to address "global challenges" while also citing shared concerns about the "fragmentation of the international community" over Ukraine.
According to Le Monde, France considers India, which has refrained from condemning Russia over its military campaign in the neighboring country, as "an essential partner in the search for a lasting solution."
While Modi has so far refrained from following the lead of Brazilian President Luiz Inacio Lula da Silva by portraying himself as a mediator, he has instructed his subordinates to work with their French counterparts to find a way out of the current diplomatic impasse, the report says.
While Le Monde did not provide any details of the plan, it noted that at this stage it does not look like previous initiatives floated by China and several other nations.
Since the start of the Ukraine conflict more than one year ago, many world leaders have called for peace negotiations between Moscow and Kiev, including Lula, who in April urged the US "to stop encouraging war" and instead focus on finding a diplomatic solution.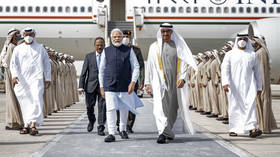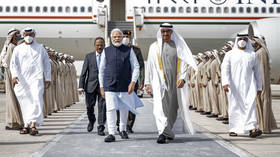 Read more
India and UAE agree to settle trade in rupees and dirhams
Lula's statement came after China in February unveiled its own proposal, which called for "respecting sovereignty of all countries" and abandoning "the Cold War mentality."
At the same time, Macron struck a different tone, expressing hope that negotiations between Ukraine and Russia could start if Kiev manages to achieve success during its much-hyped summer offensive, which Moscow says has so far failed to gain any ground.
However, while Moscow has repeatedly said that it is open to negotiations with Ukraine, last year President Vladimir Zelensky signed a decree banning talks with the current Russian leadership. Later, Kiev also came up with its own peace plan demanding that Russia withdraw from all territories that it claims as its own and that Moscow pay war reparations. The Kremlin has dismissed the plan as detached from reality. (RT)
Azərbaycan24 sosial şəbəkələrdə