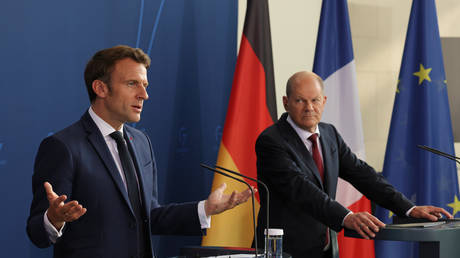 Growing tensions between the two states threaten to disrupt an EU summit on economic competitiveness and Ukraine aid FILE PHOTO. German Chancellor Olaf Scholz and French President Emmanuel Macron speak to the media following talks at the Chancellery on May 09, 2022 in Berlin, Germany © Getty Images / Sean Gallup
A disagreement between Paris and Berlin over nuclear energy and combustion engine vehicle policies is casting a shadow on an upcoming EU summit on Ukraine, Politico reported on Monday, citing multiple sources.
According to the outlet, the impasse between Germany and France is feared to disrupt a meeting of EU leaders in Brussels on Thursday, in which the officials are set to discuss economic competitiveness, as well as ammunition deliveries to Kiev.
The latest row was initially ignited after Germany tried to mount a late blockade of the EU's zero-emissions legislation, which includes a ban on the sale of polluting cars and vans by 2035. Berlin wants a clearly-worded exemption for e-fuels – a synthetic alternative to fossil fuels that is beneficial to the German automotive industry. However, Berlin's demand has already been rejected twice before in the European Parliament, as member states refused to back a binding loophole for such fuels last year.
Germany's attempts to roadblock the adoption of EU clean tech legislation have sparked frustration in France, which, in turn, is now trying to push through a nuclear energy exemption in the bloc's green rules. Paris wants to include a reference in the EU summit conclusions that would emphasize the importance of nuclear power for EU industry decarbonization, according to two diplomats familiar with the matter.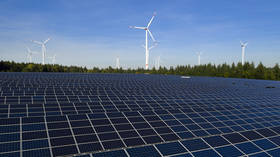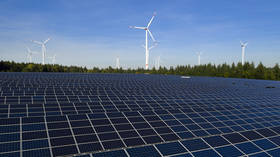 Read more
Energy crisis to cost Germany $1 trillion – Bloomberg
That, however, has drawn opposition from Berlin, where the nuclear-skeptic government has committed to completely phasing out nuclear energy, as the last remaining nuclear power plants are scheduled to be shut down next month.
Germany has also previously pressured the European Commision to downgrade the role of nuclear power under the Net Zero Industry Act, the latest draft of which was presented last week. France was outraged by the move and is now demanding that nuclear-based hydrogen be given a bigger role in the EU's renewable energy goals.
German Chancellor Olaf Scholz has reportedly said he would like to resolve the issue before Thursday's summit to avoid having it become a bigger political discussion among leaders, according to three sources who spoke to Politico.
The upcoming summit is expected to focus on finalizing a €2 billion deal to jointly restock Ukraine's dwindling ammunition supplies while refilling the bloc's own stocks. The plan was initially proposed by EU top diplomat Josep Borrell and was approved on Monday at a meeting of EU foreign and defense ministers. (RT)
Azərbaycan24 sosial şəbəkələrdə