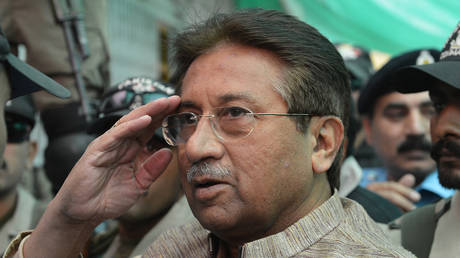 The ex-leader has passed away in a hospital in the UAE FILE PHOTO: Former Pakistani president, Pervez Musharraf, in Islamabad, Pakistan, 2013. © Aamir Qureshi / AFP
Former Pakistani president and military leader, Pervez Musharraf, passed away at the age of 79 in Dubai on Sunday, where he had been living in self-imposed exile. His family announced in June that Musharraf was hospitalized with amyloidosis, a rare disease involving the build-up of proteins in organs.
Pakistan's political and military officials expressed condolences over Musharraf's death. "May Allah bless the departed soul and give strength to the bereaved family," the Inter-Services Public Relations (ISPR), the media wing of the Pakistan Armed Forces, said in a statement.
Musharraf joined the army at 18 and fought in the 1965 Indo-Pakistani war. He rose through the ranks and was appointed Chief of Army Staff in 1998. The next year, Musharraf overthrew the government in a bloodless coup.
Musharraf closely allied the country with the US during Washington's global "war on terror" that was launched in the wake of the 9/11 attacks on American soil. As a result, the he became a target of Al-Qaeda and other extremists and had survived at least three assassination attempts. Pakistan, meanwhile, grew increasingly reliant on military and security aid from the US.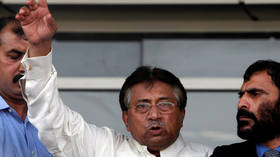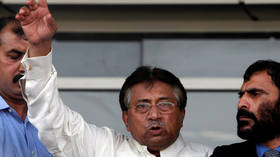 Read more
Pakistan's ex-president Musharraf appeals to Supreme Court over special tribunal's guilty verdict in treason case
At home, Musharraf enacted several liberal reforms that sought to expand the rights of women and modernize the country. At the same time, opponents accused him of authoritarianism when he suspended the constitution in 2007 and imposed a state of emergency across Pakistan. Musharraf eventually resigned in August 2008 amid an effort to impeach him.
In 2014, Pakistan's top court indicted Musharraf for high treason in connection with his 2007 emergency rule. The former president left for the UAE for medical treatment in 2016 and had not returned since.
In 2019, the court sentenced Musharraf to death. The ex-president appealed the verdict, which was then overturned in 2020.
Musharraf denied the accusations of treason. In 2010, he apologized for past mistakes. "I take this opportunity to sincerely apologize to the whole nation for those wrong decisions," he told supporters at the time. "I have learned my lessons and I am very sure I will not repeat them again." (RT)
Azərbaycan24 sosial şəbəkələrdə