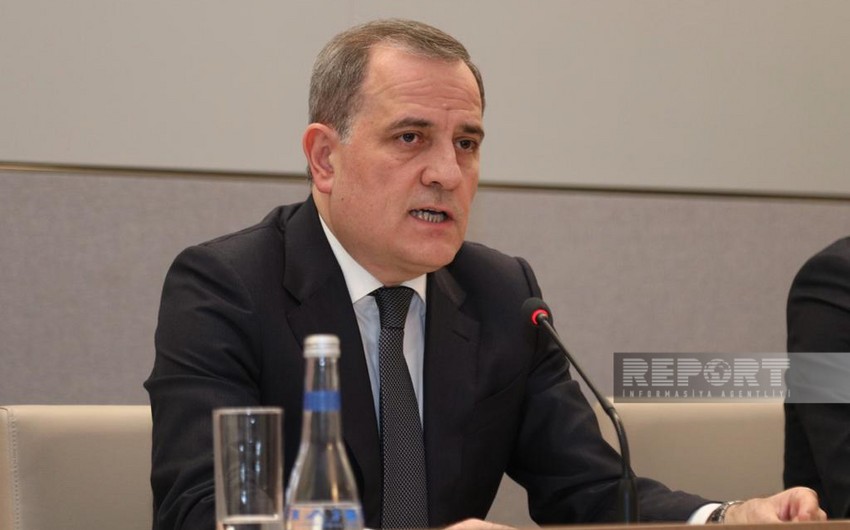 The continued illegal military presence of Armenia in the sovereign territories of Azerbaijan, consistent interference with our internal affairs, obstruction of the dialogue between the central Azerbaijani authorities and local residents of the Garabagh region of Armenian origin, and wide-scale smear campaign being pursued internationally, including within the OSCE, contradict to this declared commitment, and instead, constitute the major impediment for the negotiations on inter-state normalization between Azerbaijan and Armenia, Minister of Foreign Affairs of the Republic of Azerbaijan Jeyhun Bayramov said at the meeting of the OSCE Permanent Council, Report informs, citing MFA.
"Along with the inter-state process of normalization, Azerbaijan has, internally, embarked on large-scale post-conflict rehabilitation, reconstruction, and reintegration efforts to eliminate the harsh consequences of the thirty-year-long military occupation of our territories. This aims at ensuring the right of hundred of thousands of Azerbaijanis to eventually exercise their violated right to safe and dignified return to their homes and peaceful coexistence of the conflict-affected citizens of Azerbaijan," Bayramov said.
He noted that Azerbaijan is determined to reintegrate ethnic Armenian residents of the Garabagh region of Azerbaijan into the political, legal, economic, and social framework of Azerbaijan as equal citizens:
"The Government has appointed a Special Representative for the dialogue with local Armenian residents with a view to discussing issues pertinent to their reintegration. The Constitution and the national legislation of Azerbaijan, along with the international documents that we are party to, in particular, the European Convention of Human Rights and the Framework Convention for the Protection of National Minorities provide the solid ground to this end.
"However, the massive contamination of territories of Azerbaijan with landmines and other explosives is the major impediment and poses a serious humanitarian threat. Indiscriminately planted mines continue to take lives almost on a daily basis."
According to him refusal of Armenia to share all maps of mined areas and the continued planting of mines, and installation of booby traps, and other explosives even after the declaration of cessation of all military activities further aggravates the situation and increases the humanitarian toll:
"Since the signing of the trilateral statement in 2020, 302 individuals have fallen victim to landmines. This also includes mines transferred to the territory of Azerbaijan and planted therein after the signing of the Trilateral Statement of 10 November 2020.
"In order to tackle this humanitarian threat for enabling the safe, voluntary, and dignified return of IDPs, the Government of Azerbaijan has set mine action as one of its national priorities and is also setting a particular national Sustainable Development Goal (SDG) on demining. Furthermore, Azerbaijan promotes establishing a new global SDG on humanitarian demining.
Azərbaycan24 sosial şəbəkələrdə