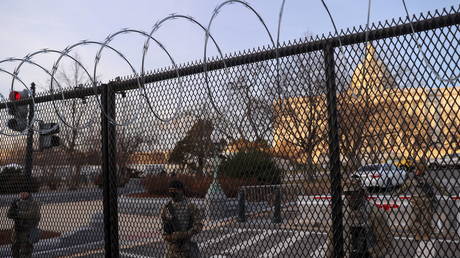 The FBI's intense focus on so-called domestic extremism has borne fruit, the agency has announced, noting that it used advanced facial recognition to nab an individual suspected of taking part in January's Capitol riots.
Stephen Chase Randolph, a participant in the January 6 raid on the Capitol in Washington, DC, was identified from surveillance footage and photographs using facial recognition software alone, the Huffington Post reported on Tuesday. The suspect's identity appears to have been triangulated through computerized means alone, according to federal authorities, meaning no human informants were required to put the pieces together beyond a small social media group called 'SeditionHunters' on Twitter, who collected the many photos taken on that day – and even that group merely collected the photographs taken on the day of the raid and amassed them in one place.
Also on rt.com The big screw-up: incendiary warnings by Maxine Waters over the trial of Derek Chauvin could badly backfire
The discovery of Randolph's identity, then, was one of the few made in the Capitol investigation without human participation. Randolph was not ratted out by a relative or disgruntled ex-girlfriend; his presence was revealed and then confirmed using some of the thousands of crowdsourced images accumulated on law enforcement and open-source databases, including images collected by SeditionHunters, a group that describes its mission as "hunting and distributing clear face images of seditionists."
These were not relatives or acquaintances of Randolph; SeditionHunters ran the related images using an "open-source facial recognition tool, known to provide reliable results," digging up a public Instagram, and then one more 'hop' from that account – apparently belonging to Randolph's girlfriend – turned up a public page yielding "numerous images" of the suspect. Even recognizable items of clothing appeared from one image to another, leading some of those hunting his identity to dub him "#GrayCarharttHat" for his recognizable headgear.
Read more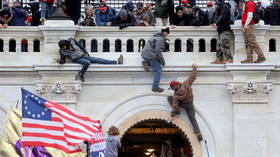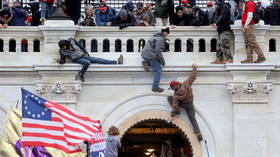 Grifters gonna grift: The Lincoln Project's Twitter re-enactment of the Capitol Hill riot is a pathetic attempt to stay relevant
The FBI finally released its own images of Randolph in late January, tagging him #168-AFO for alleged "assault on federal officers." As two FBI agents showed up at his workplace earlier this month, Randolph essentially finished the job of convicting himself, boasting that not only had he attended the riots, but he'd been there for five minutes before "s**t went crazy," he'd stood near people who pelted police with objects, and he saw a female police officer "get pushed over by barricades and that her head had likely bounced off the handrails by the stairs," an attack which he said likely gave her a concussion.
Randolph might not have committed any assaults himself, but the laser-like focus with which the FBI has targeted the participants in the January 6 riots almost guarantees he will suffer far beyond the "crimes" he did or did not commit. He was arrested on Thursday and is scheduled to stand trial on Wednesday. (RT)
Azərbaycan24 sosial şəbəkələrdə
Whatsapp xəttimiz -
070 224 40 25