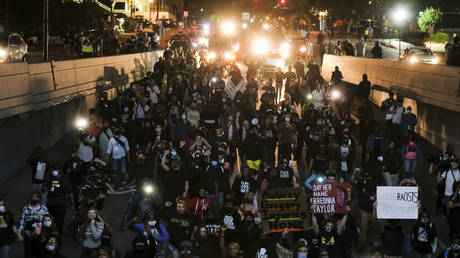 A clearly phony check from billionaire investor George Soros made out to "Conrad Ann Teefa" – supposedly payment for Antifa rioting well done – has become the target of widespread derision after surfacing on social media.
An image of the $5,000 check – made out to Mr. "Teefa" care of "Professional Protesting Inc." – was posted to Twitter on Thursday in response to conservative pundit Laura Ingraham. The Fox News host had retweeted a video of a horde of what appeared to be Antifa protesters pulling large banners and signs out of a parked Uhaul truck.
The image of the 'check', including the oddly-worded caption "We know that George Soros is of terrorism," appeared to be a screen-capture of a Facebook post, though searching that text on Facebook on Friday brought up no such image.
The Twitter user who posted it seemed to take it very seriously, however, tweeting: "This is what these rioters are getting paid daily. No wonder."
Other users had a field day mocking the poster's credulity.
A few took the time to point out telltale signs (aside from the name on the check) that it wasn't real.
Some, however, opted to play along. "Only 5000? Must be a clerical rioter," deadpanned one user. "When you get into rioting management your pay gets WAYYY better." (RT)