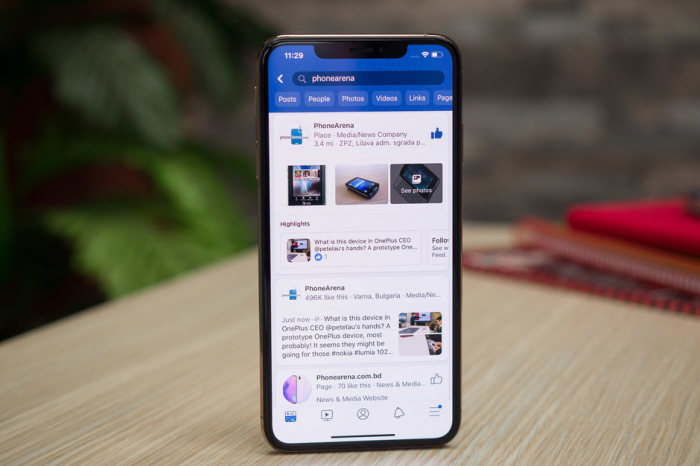 Now, iPhone owners have found a reason to be alarmed and worry about their privacy while using Facebook. It seems that the wildly utilized social networking site might be active in using your iPhone cam without you knowing it, while you scroll your feed.
The issue came out after Joshua Maddux and an FB user took Twitter to complain about this unusual behavior taking place on the FB app for iOS. In footage, the Twitter user shared that, an individual can see his cam in the background while scrolling through his Facebook account's news feed. In addition, the problem is turning more evident because of a bug showing the camera feed in a small sliver on the left part of the screen, when the photo is opened in and swiped down.
Issue Found in at least five iPhones
Maddux added he discovered a similar problem on 5 iPhone devices that run iOS 13.2.2. However, he failed to reproduce the same issue on iOS 12. The findings are aligned with the attempts that were made by others. While the iPhones running iOS 13.2.2 certainly display the camera that's working actively in the background, the same problem did seem to impact iOS 13.1.3. Further observations have it that the problem only takes place if Facebook is trying to access it. However, iOS is reportedly blocking the attempt.
It is still unclear if this is a behavior that's anticipated, and, just a bug in iOS software. And anyone who attempted to reproduce the same problem failed to do so on an Android device, specifically Version 10, typically used on Google Pixel 4. And, for whatever is the reason for it, such behavior is explicitly concerning, specifically that Facebook is said to have a horrible track record in terms of user privacy.
Dealing with the Privacy Concern
At present, everyone, or at least those using devices running the iOS app that has been given access to their camera, can secretly record them. A couple of years ago, Felix Krause, a researcher, talked about this same problem. In connection to this, the researcher said that an effective way to deal with this privacy concern is to deny access to the camera, although it does not make for a flawless experience with the software. One more effective way of dealing with privacy issues is to cover up the camera.
Facebook has been reached out to comment on the issue. As of this writing, Facebook has responded and confirmed the problem, calling it a bug. Relatively, a company official said they recently discovered their iOS app wrongly launched on the platform. And, while fixing the incorrect launch, they inadvertently started a bug where the app could partly navigate the camera screen when the photo gets tapped.
techtimes.com