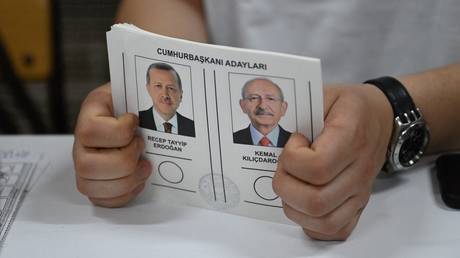 Opposition candidate Kemal Kilicdaroglu has promised a 180-degree shift in relations with Moscow A person holds ballot papers showing Turkish presidential candidates Recep Tayyip Erdogan and Kemal Kilicdaroglu. © AFP / Ozan Kose
If President Recep Tayyip Erdogan is victorious in the second round of the Turkish election on Sunday, relations between Ankara and Moscow will continue to be warm – but it could be a different story if his opponent, Kemal Kilicdaroglu, wins the tight race, Turkish experts told RT.
The election went to a runoff after none of the candidates won 50% in the first round, which was held earlier this month.
There will be no change in Türkiye's stance towards Russia if Erdogan comes out on top, Ibrahim Karatas, associate professor of international relations at Istinye University in Istanbul, believes.
"Erdogan has been pursuing an independent foreign policy in the last ten years," and if he wins, he will continue to do so, he said, adding that relations between the two counties may even improve.
Kilicdaroglu, on the other hand, promised before the first round "that he will change foreign policy 180 degrees," aligning Türkiye with the West, Karatas said. "I guess that he will join the sanctions on Russia."
The US and its allies could persuade Kilicdaroglu to cancel all contracts with Moscow, including closing the Russian-built Akkuyu Nuclear Power Plant, which was opened just last month, he added.
The editor of the United World International analytics center, Yunus Soner, told RT that "you will definitely see a different discourse" regarding Russia if Kilicdaroglu defeats Erdogan in the runoff.
Soner went on to say: "how far he can really change the content of his policy, for instance joining the sanctions or increasing his support for Ukraine, that's another matter."
"Turkey is a big country. It has a lot of interests, huge economy, and an organized civil society. So, you can't just take the seat and turn the wheel over," he said.
Soner said that Kilicdaroglu's "recent talk about lowering the so-called energy dependency from Russia is worrying." But carrying out this plan would be problematic, as buying energy from the US would be too expensive for Türkiye, he noted.
Azərbaycan24 sosial şəbəkələrdə