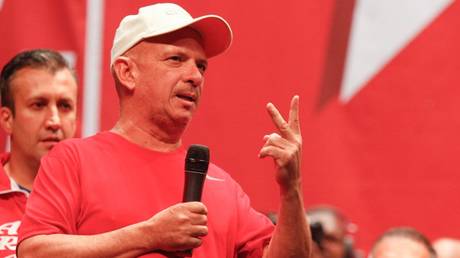 Former head of military intelligence Hugo Carvajal is facing drug trafficking charges FILE PHOTO: Venezuelan ex-military intelligence chief Hugo Carvajal speaks at a rally in Caracas. © AFP / Presidencia
Hugo Carvajal, who headed Venezuela's military intelligence during the rule of the late Hugo Chavez, has been extradited from Spain to the US, his lawyer has said.
Carvajal landed in America on Wednesday and is expected to make his first appearance at a Manhattan federal court on Thursday, lawyer Zachary Margulis-Ohnuma announced.
The extradition has also been confirmed to Reuters by the US Attorney's office in Manhattan, which brought the charges against the 63-year-old.
New York prosecutors suspect Carvajal, who headed Venezuela's military intelligence between 2004 and 2011, as well as from 2013 to 2014, of using his position to support drug trafficking by the now disarmed FARC guerrilla group in Colombia. They claim that in 2006, Carvajal coordinated the shipment of 5,600kg (1,235lbs) of cocaine to Mexico, with the US being the final destination for the drugs. The former spy chief has repeatedly denied any links to FARC or drug trafficking.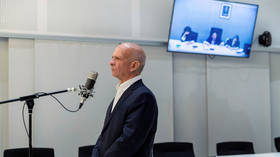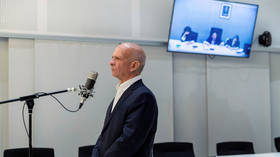 A Spanish court ordered Carvajal's immediate extradition on Tuesday after the European Court of Human Rights last week turned down his last attempt to avoid being delivered to the US. Judges in Strasbourg ruled that claims by the defense that the former spy chief faces the "real risk" of receiving a life sentence without parole in America could not be proven.
Carvajal fled Venezuela in 2019 after urging the army to turn on President Nicolas Maduro during a failed attempt to seize power by US-backed opposition figure Juan Guaido. He is wanted in his home country on several charges, including treason and financing terrorism.
According to reports, Carvajal may also be of interest to the US due to his alleged possession of incriminating evidence against Maduro, who is a staunch opponent of Washington.
The former spy chief was first arrested in Spain in 2019, but avoided extradition to the US after a court decided that the American request to hand him over was "politically motivated."
Judges later backtracked on that decision, but Carvajal went into hiding and was arrested again only in September 2021. According to police, he remained in Spain during that time, often changing addresses and even undergoing plastic surgery to conceal his identity. (RT)
Azərbaycan24 sosial şəbəkələrdə