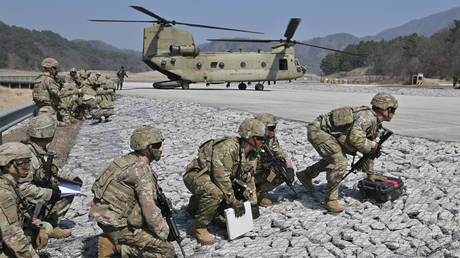 Ben Wallace reportedly had a chip on his shoulder over his failure to become NATO secretary general US soldiers embark a US Army CH-47 Chinook helicopter during a drill at a military training field in Pocheon, South Korea, on March 19, 2023. © Jung Yeon-je / AFP
Former UK Defense Secretary Ben Wallace tried to derail a major deal to buy heavy military helicopters from the US, triggering a diplomatic row between the two long-time allies, The Times reported on Saturday, citing sources.
The incident is said to have occurred after Washington reportedly shunned Wallace's bid to become the next NATO secretary general, although the outlet's sources insisted that the two issues were not related.
According to the paper, Wallace, who resigned on Thursday, spent his last weeks in office trying to cancel the purchase of 14 Boeing Chinook H-47 two-motor lift helicopters. The former defense secretary reportedly had serious doubts about the £2.3 billion ($2.9 billion) deal and suggested canceling it to ease the pressure on the defense budget.
Wallace argued that Britain already has the largest heavy-lift fleet in Europe and favored investment in medium-lift support helicopters, which would have allowed London to save money, the article said. Another concern, according to the report, was that Britain lacked the communications, satellite technology, and transport means to carry out special operations involving US-designed aircraft.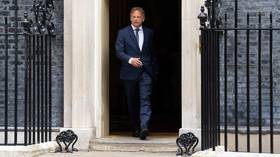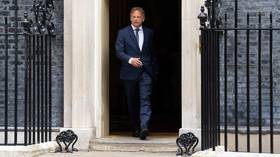 Read more
UK PM appoints new defence secretary
However, the initiative left many UK officials unhappy, with one describing it as "mad." Another Times source suggested that Wallace "was trying to piss off the Americans." As the diplomatic row was reportedly brewing, Karen Pierce, the UK ambassador to the US, is said to have warned London that canceling the deal would be a bad idea.
UK officials reportedly scrambled to calm down their America counterparts, telling them that the tensions would be defused once Wallace was out of the government. "There has been a lot of reconciliation, just to keep the US reassured," a source told the paper.
The apparent controversy comes after US President Joe Biden refused to endorse Wallace's candidacy to succeed long-serving NATO Secretary General Jens Stoltenberg. According to a Daily Telegraph report in July, Wallace, who was once considered a front-runner for the job, failed to secure Washington's backing because the UK announced a coalition to help Ukraine procure F-16 fighter jets without first consulting the US.
A Times source categorically rejected the "pathetic" speculation that Wallace's apparent attempts to cancel the helicopter deal were linked to his NATO ambitions. However, one source said that he was "deeply disappointed" that his aspirations to succeed Stoltenberg had come to nothing, which he is said to have blamed on the White House. (RT)
Azərbaycan24 sosial şəbəkələrdə