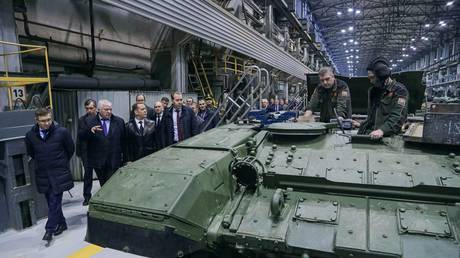 Manufacturers will roll out 1,500 tanks this year, Dmitry Medvedev has predicted FILE PHOTO: Dmitry Medvedev visits UralVagonZavod machine building company, in Nizhny Tagil, Russia. © Sputnik
Russia is rapidly boosting its military production capacity to meet the demand of the Ukraine campaign, Dmitry Medvedev, the deputy chair of the country's national security council, has told journalists.
"Our enemies thought that our industry would be overwhelmed," the official, who also has previously served as Russian president and prime minister, said by videolink on Wednesday. "There were endless claims: munitions are running out, tanks are running out, missiles are running out."
We will build a thousand and a half tanks alone this year.
Medvedev said he'd witnessed military factories working round the clock during his inspections. And new manufacturing capacities are being built, he added.
"Sure, we didn't think it would be necessary sometime ago. But it became a necessity," he said of the expansion.
The Russian defense industry keeps running despite attempts by the US and its allies to cripple it with economic sanctions, Medvedev said, adding that what its designers and builders produce are "very worthy specimens" of military hardware.
Drones and Russia's effort to close the capability gap with nations like the US was one of the major topics of the discussion at the press conference. Medvedev said that Russian-made loitering munitions, commonly known as kamikaze drones, have proven to be quite effective in Ukraine.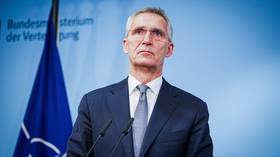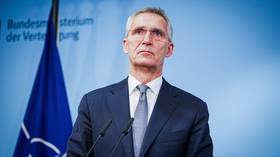 "Kub, Lantset, others … have demonstrated their outstanding qualities" on the battlefield, he reported.
Where Russia lags behind, Medvedev acknowledged, is in designing and producing large strike drones. However the country has "several models that have already gone into series production."
"I am certain that [putting these to use] is a matter of several months," he promised.
Russia has parity with the US or even beats it in another area of available arms – strategic nuclear weapons, Medvedev pointed out.
"This is even more important for the existence of our nation because, without them, they would have certainly torn us to pieces," he said, apparently referring to the likely actions of NATO nations. Members of the US-led bloc have pledged to use their arms reserves and military industry to arm Kiev against Moscow to achieve a "strategic defeat" against Russia.
Medvedev has stated on many occasions that Russian nuclear deterrence serves as a guarantee that its vital security interests in Ukraine will be achieved despite Western opposition. However, the threat of a nuclear war "has grown" because of the conflict in Ukraine and associated arms shipments, he cautioned. (RT)
Azərbaycan24 sosial şəbəkələrdə