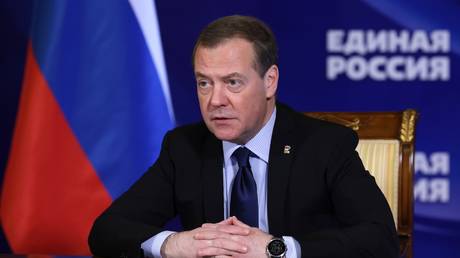 The Ukraine crisis may lead to the founding of a bloc of countries "fed up" with Washington, Dmitry Medvedev says FILE PHOTO. Dmitry Medvedev. © Sputnik / Yekaterina Shtukina
The continuous flow of military aid to Kiev clearly shows that the collective West is seeking to "wear out or, preferably, destroy" Russia, the country's former president, Dmitry Medvedev, remarked on Sunday. The effort, however, may ultimately backfire for the US and its allies, he believes.
Medvedev, who currently serves as deputy chair of the Russian Security Council, made the comments in a social media post, days after a meeting at the US Ramstein air base in Germany at which Western powers pledged to continue supporting Kiev.
"The meeting at Ramstein and the allocation of heavy weaponry to Kiev leave no doubt that our enemies will be trying to wear us out for an indefinite period of time, or, preferably, to destroy us," the ex-president wrote.
However, the prolongation of the hostilities in Ukraine may ultimately lead to the emergence of a new military bloc that brings together nations "fed up with the Americans," Medvedev suggested.
"This has always happened in the history of mankind during long wars. And the US then will finally abandon old Europe and what remains of the unfortunate Ukrainians, and the world will return to an equilibrium once again," the former leader said, warning, however, that it might be "too late" before this happens.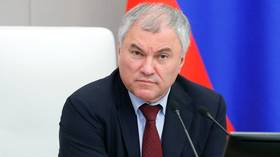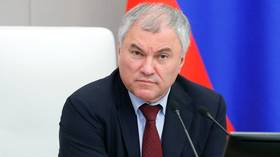 Read more
Moscow warns West of 'global tragedy'
Moscow has repeatedly urged the collective West to stop "pumping" Ukraine with weapons, maintaining that it would only prolong the hostilities rather than change the ultimate outcome. Top Russian officials have repeatedly characterized what is happening as a proxy war between Russia and the US-led NATO alliance rather than merely a conflict with Ukraine.
Russia sent troops into Ukraine on February 24, 2022, citing Kiev's failure to implement the Minsk agreements, which were designed to give Donetsk and Lugansk special status within the Ukrainian state. The protocols, brokered by Germany and France, were first signed in 2014. Former Ukrainian President Pyotr Poroshenko has since admitted that Kiev's main goal was to use the agreement to buy time and "create powerful armed forces."
Meanwhile, former German Chancellor Angela Merkel and French President Francois Hollande have both corroborated that admission, stating that the Minsk agreements were never intended to actually be fulfilled but were merely a ploy to buy time for Ukraine to build up its military. (RT)
Azərbaycan24 sosial şəbəkələrdə