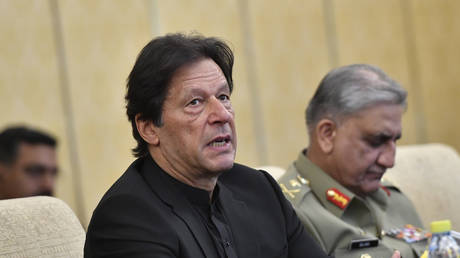 The former cricket star claims his conviction for illegally profiting from state gifts was politically motivated Imran Khan meets with Chinese President Xi Jinping (not pictured) at the Diaoyutai State Guesthouse on October 9, 2019 in Beijing, China © Getty Images / Parker Song-Pool/Getty Images
Former Pakistani prime minister Imran Khan was issued with a three-year jail sentence by an Islamabad court on Saturday after he was found guilty on corruption charges. The verdict means that Khan, who claims the prosecution was politically motivated, will not be able to contest elections later this year.
In a pre-recorded statement released on X (formerly Twitter), Khan told his supporters: "I have only one appeal, don't sit at home silently."
Judge Humayun Dilawar declared in court that Khan, 70, had "deliberately submitted fake details" after he was accused of illegally profiting from the sale of gifts he received while serving as Pakistan's head of state between 2018 and 2022. After issuing the three-year custodial term, the judge also ordered Khan to be banned from politics for a period of five years.
Following the verdict, Khan, who was not in court, was arrested at his home in Lahore and taken into police custody. The claims against the former prime minister are a case of "political victimization," according to his lawyer Intezar Hussain Panjutha.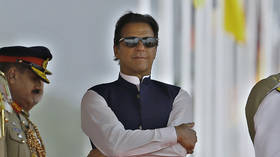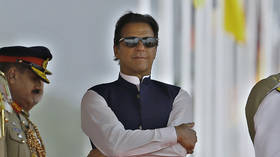 Read more
Ex-Pakistani PM Imran Khan blames military for his arrest
"Khan was not given an opportunity to defend himself and say his side of the story," he said after the verdict. "We wanted to provide witnesses in his favor but he was not allowed this opportunity. Khan was not given a fair trial."
Khan's barrister, Gohar Khan, added in comments to The Dawn newspaper that the court's verdict had been a "murder of justice."
However, opponents of the former politician appeared to celebrate the court's judgment outside the building, with some chanting: "Imran Khan is a thief."
More than 150 cases have been brought against Khan, the former sports star turned populist political figure, since he was ousted from office last April following a no-confidence vote. He has denied all wrongdoing.
Barring a successful appeal, Khan's conviction means he will be prohibited from standing in Pakistan's general elections, which are expected to take place in October or November. Khan, who had unsuccessfully called for early elections to take place, has previously stated his belief that Pakistan's military authorities have attempted to obstruct his Tehreek-e-Insaf party from regaining political power.
It's the second time in recent months that Khan has been arrested. Around 100 paramilitary troops were involved in his detention last May in connection with one of the numerous cases against him. Khan has alleged that Pakistan's military is responsible for attempts to subdue his political influence. He has also claimed that the United States has conspired with Pakistan's government to prevent him from returning to political power. (RT)
Azərbaycan24 sosial şəbəkələrdə