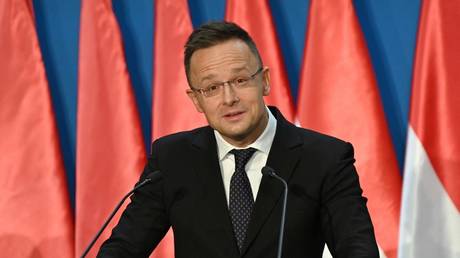 The continent's leaders must snap out of their "war psychosis," Foreign Minister Peter Szijjarto has warned Peter Szijjarto speaks during a press conference in Budapest, Hungary, December 7, 2021 © AFP / Attila Kisbenedek
Europe is moving closer to "catastrophe in every sense," Hungarian Foreign Minister Peter Szijjarto declared on Monday, before extending Budapest's veto on EU arms transfers to Ukraine.
"Europe is moving closer to a catastrophe – in every sense, unfortunately," Szijjarto wrote on Facebook before meeting with EU foreign ministers in Luxembourg on Monday. "Now even bigger trouble could be prevented and many thousands of lives could be saved," he continued, "but to do this one would have to break out of the war psychosis."
"I have no illusions that this will happen at the meeting of the EU Foreign Ministers in Luxembourg today," he concluded.
Szijjarto's prediction played out on Monday. After an address by Ukrainian Foreign Minister Dmitry Kuleba, the bloc's top diplomats voted to increase their joint weapons fund for Ukraine by an additional €3.5 billion ($3.85 billion).
Known as the 'European Peace Facility' (EPF), the fund is a €5.6 billion ($6.08 billion) purse that the bloc uses to finance foreign militaries and reimburse its own members who send arms to foreign conflicts. Before the conflict in Ukraine, the 'Peace Facility' had only been used to supply non-lethal equipment to Georgia, Mali, Moldova, Mozambique, and Ukraine, for a total of less than $125 million.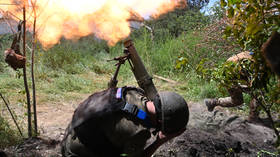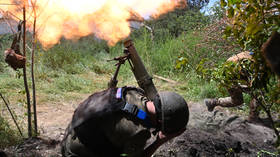 Read more
Ukrainian victory is 'impossible' – Orban
While the EPF's ceiling will be increased, Szijjarto confirmed on Monday that Hungary will maintain its veto on the latest €500 million ($546 million) tranche of arms from the fund for another month. Budapest is currently blocking the transfer of EU weapons to Ukraine due to Kiev's blacklisting of Hungarian companies doing business in Russia.
Szijjarto and Hungarian Prime Minister Viktor Orban have both repeatedly called for a ceasefire and peace deal in Ukraine, while insisting that anti-Russia sanctions hurt Europe more than they hurt Russia.
In an interview with German tabloid Bild on Tuesday, Orban stated that the idea of a Ukrainian victory on the battlefield is "impossible" and that without an immediate ceasefire, Ukraine will "lose a huge amount of wealth and many lives, and unimaginable destruction will occur."
"What really matters is what the Americans want to do," Orban said, explaining that "Ukraine is no longer a sovereign country. They don't have any money. They have no weapons. They can only fight because we in the West support them." (RT)
Azərbaycan24 sosial şəbəkələrdə