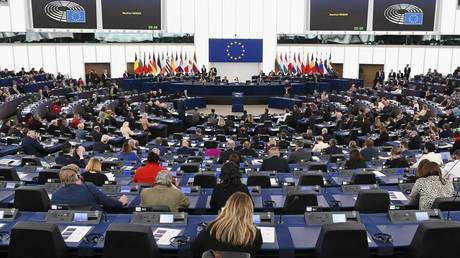 Calls for more weapons for Ukraine do not contribute to peace, Csaba Domotor has said Members of the European Parliament attend the opening session of the European Parliament in Strasbourg, eastern France, on December 12, 2022. © FREDERICK FLORIN / AFP
The new EU Parliament resolution calling for more Western arms to Ukraine and a full energy embargo on Russia would only add fuel to the conflict between Moscow and Kiev and prove detrimental to the European economy, Csaba Domotor, the secretary of state in the Hungarian prime minister's office, has said.
On Thursday, the bloc's legislature approved a non-binding document encouraging member states to adopt a tenth package of sanctions against Moscow as soon as possible.
Among the measures being proposed are an embargo on imports of fossil fuels and uranium from Russia, further arms shipments to Ukraine, and for the Nord Stream 1 and 2 gas pipelines to "be completely abandoned." The EU Parliament is also seeking to target oil company Lukoil and Russia's nuclear agency Rosatom.
In a Facebook post on Saturday, Domotor blasted the resolution, noting that it includes two "most serious" points.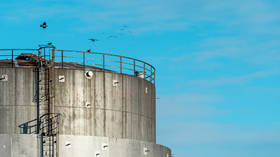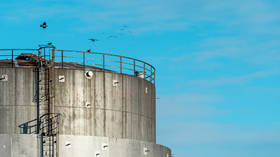 Read more
EU will face fuel shortages and soaring energy prices – Hungary
The first provision calling for military aid to Ukraine to be increased and accelerated is "anything but a call for peace. Rather, it is a big step towards military escalation," he said.
Meanwhile, an embargo on fossil fuels and uranium from Russia would essentially mean a complete ban on imports of gas and nuclear fuel from the country, Domotor pointed out.
Should the European Parliament impose these restrictions, they would "not only support the previous sanctions, but also inflation," which is largely attributable to skyrocketing energy prices, the official warned.
"If a total embargo is announced, it is a guarantee of further price increases. I think this is [going in] a very bad direction," Domotor stressed.
Hungary, which is heavily dependent on Russian energy, has long been critical of the sanctions the West has imposed on Moscow over the Ukraine conflict. It has argued that the restrictions have adversely impacted the EU economy but failed to meaningfully weaken Russia.
Budapest has also refrained from supplying Ukraine with arms while signaling last month that it would veto any EU sanctions targeting Russian nuclear energy. (RT)
Azərbaycan24 sosial şəbəkələrdə