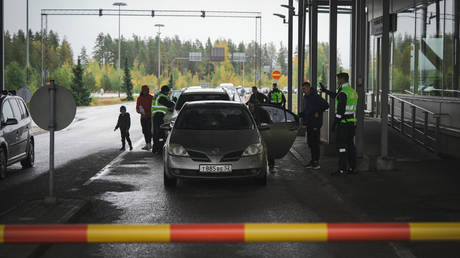 Finland has signaled it will fully comply with Brussels' guidelines on sanctions against Moscow FILE PHOTO: Finnish border guard officers check cars approaching the Vaalimaa border crossing between Finland and the Russian Federation. © Alessandro RAMPAZZO / AFP
Finland has given owners of Russian-registered cars six months to remove them from the country, having barred most such vehicles from entering.
Earlier this month the EU recommended that its member states seize a wide range of personal belongings of Russian citizens entering the bloc, as part of sanctions arising from the Ukraine conflict.
In a statement on Friday, the Finnish Foreign Ministry said that starting from September 16, only EU citizens permanently residing in Russia, their family members, diplomats, or those acting on humanitarian grounds, will be allowed to bring a car registered in Russia to Finland.
The ministry later warned that vehicles that "have already arrived in Finland and have Russian license plates must be taken out of the country by March 16, 2024".
Explaining the move, Finnish officials also stressed that Helsinki "fully implements the sanctions imposed as a result of Russia's war of aggression against Ukraine" and seeks to prevent sanctions-dodging.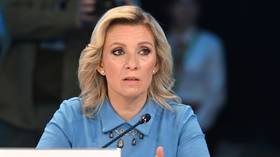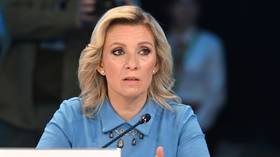 Read more
EU is 'racist' against Russians – Moscow
The ban stemmed from a compilation of "frequently asked questions" released by the European Commission last week, implying that Russian nationals were not allowed to bring a wide range of items, including all types of phones, soap, and even toilet paper, into the bloc. The document also prohibited Russians from bringing in cars regardless of "whether the use of the vehicles is private or commercial."
Later, however, the EU dialed down the restrictions, saying the ban on phones and hygiene products only applied in cases where trade sanctions were being circumvented, and recommending customs authorities to act in a "proportionate and reasonable manner." However, it reiterated that road vehicles require "particular attention" when it comes to potential sanctions violations.
In addition to Finland, Poland, Estonia, Latvia and Lithuania have also banned Russian-registered private cars, although the latter agreed to make an exception for automobiles traveling through its territory to the Russian exclave of Kaliningrad.
The EU restrictions have been condemned by Moscow, with Russian Foreign Ministry spokeswoman Maria Zakharova denouncing them as "simply racism," while former Russian President Dmitry Medvedev suggested suspending diplomatic relations with the bloc.
The West first introduced sanctions against Russia in 2014 after the Crimean peninsula overwhelmingly voted to join its neighbor following a Western-backed coup in Kiev. The restrictions were ramped up after the start of hostilities between Moscow and Kiev in February 2022. Russia has repeatedly denounced the sanctions, calling them "illegal." (RT)
Azərbaycan24 sosial şəbəkələrdə