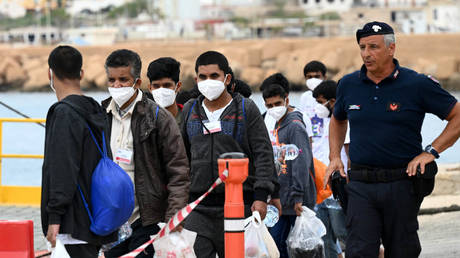 The bloc is trying to adopt common refugee and asylum rules based on "mandatory solidarity" Migrants wait to board a boat at the Italian island of Lampedusa, south of Sicily, June 8, 2023. © Vincenzo Pinto / AFP
The European Union's migration ministers have reached an agreement on new asylum and migration rules, Sweden announced on Thursday. The proposal will not head to the European Parliament for adoption before next year's election.
The ministers assembled in Luxembourg agreed on "a general approach on the Asylum and Migration Management Regulation and the Asylum Procedure Regulation," said the Swedish government, which presides over the EU council until the end of June.
"It's a big day for us," Sweden's migration minister Maria Malmer Stenergard said to applause from her colleagues, according to EuroNews.
"We will have simpler, clearer and shorter procedures," she added.
The Swedish proposal, dubbed "mandatory solidarity," envisions each EU country agreeing to accept a number of asylum-seekers every year, or pay for their repatriation to countries of origin if their asylum applications are rejected. According to EuroNews, the relocation quota was set at 35,000 for the entire bloc, and the financial contribution was estimated at €20,000 per applicant.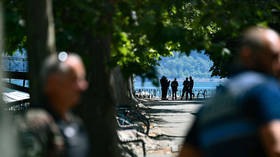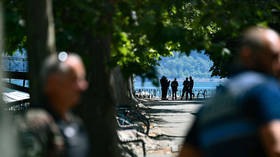 Read more
Refugee stabs children in French playground attack – media
The EU has been trying to deal with migration using the ad-hoc crisis rules adopted in 2015, when Türkiye allowed refugees from the Syrian war to move to the West. Countries such as Spain, Italy, Greece and Bulgaria – on the maritime and land borders of the EU – have been disproportionately affected by the waves of migration.
Poland and Hungary have opposed any quotas for accepting migrants, while Czechia and Slovakia had issues with the amount of payments, according to Politico EU. Warsaw has also reportedly objected to having to pay anything while it is hosting more than a million refugees from Ukraine.
Italy was negotiating with Germany until late on Thursday as to which countries qualified as "safe" for the return of rejected asylum applicants, with Rome favoring a broader definition and Berlin a more narrow one.
The EU received more than 962,000 asylum applications last year, the highest number since 2016. In just the first four months of 2023, over 80,000 migrants came into the EU outside regular ports of entry, in a 30% spike from 2022. (RT)
Azərbaycan24 sosial şəbəkələrdə