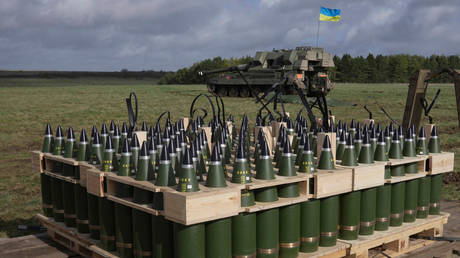 Diplomats are still working out how to supply Kiev with artillery, and who will pocket the profits File photo: 155mm ammunition for British self-propelled guns donated to the Ukrainian military, March 24, 2023. © AP Photo/Kin Cheung
The "historic" agreement to deliver two billion euros ($2.14 billion) worth of artillery ammunition to the Ukrainian military is still being worked out, Politico reported on Wednesday, citing diplomats involved in the negotiations. Concerns over who will get the money are reportedly the main bone of contention.
The plan, unveiled on March 20, envisioned the delivery of one million 155mm shells to Ukraine over the next 12 months. A package of one billion euros was earmarked for compensating EU members who would dip into their own stockpiles, and another billion for getting new shells made by military contractors, with orders organized and fast-tracked by the EU Defence Agency.
The problem now is figuring out which contractors, according to the pro-NATO outlet.
France is reportedly insisting that only EU companies should be considered, but there is legal uncertainty as to who actually qualifies as an EU company. Greece and Cyprus are in alignment with the French position, which diplomats have attributed to a desire to avoid giving orders to Türkiye.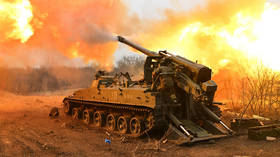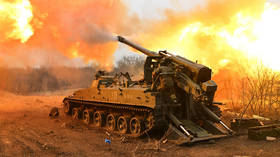 Read more
Russia outproducing West's ammunition supplies to Kiev – Putin
Meanwhile, the European Commission also needs to "map out the capacity" of the bloc's defense industry before finalizing the deal, as expanding production may be easier said than done.
EU ambassadors who met on Wednesday weren't able to make significant progress, several diplomats with knowledge of the negotiations told Politico. They did manage to finalize the text of the agreement to collect ammunition donations, however, which should be published next week.
EU foreign policy chief Josep Borrell had proposed the ammunition plan, arguing in February that it was the most important issue. "If we fail on that, the result of the war is in danger," he said at the time.
The US, EU and NATO have all insisted they were not participants in the conflict, while also arguing that Ukraine must win and Russia "must lose." Moscow has repeatedly warned the West to stop "stuffing" Kiev with arms and ammunition, arguing that they are only delaying the inevitable while risking open confrontation.
Russia has already increased its own ammunition production, tripling the number of shells the US and EU plan to supply Kiev over a year-long period, President Vladimir Putin said last week. (RT)
Azərbaycan24 sosial şəbəkələrdə