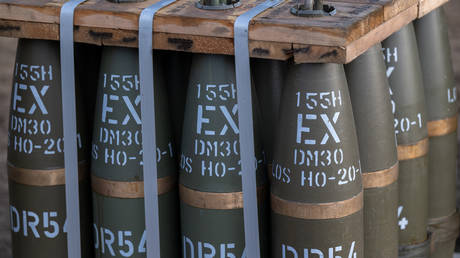 Kiev's backers risk having no more munitions to share, Wolfgang Ischinger warned Artillery shells pictured at the Bundeswehr army training center in Ostenholz, Germany on October 17, 2022. © Getty Images / David Hecker
The EU must drastically ramp up the production of ammunition and heavy weapons if it wants to help Ukraine succeed in the conflict with Russia, Wolfgang Ischinger, the former chair of the Munich Security Conference and a veteran German diplomat, said on Saturday. He stressed that Kiev's supporters would run out of supplies unless they transform their economies.
"There is much to suggest that this war is far from over. Therefore, it is necessary for us to plan for the long term," Ischinger stressed in an interview with Germany's Welt newspaper. "All the military experts I know are saying that stocks of old Soviet weapons and respective ammunition are running out."
Ukraine is forced to fire as much ammunition per day as we are producing in half a year. The end of our stocks is in sight. What comes next? Who handles replenishment? A war economy means that we – within NATO and in coordination at a European level – take the initiative and call on European armaments companies to produce more weapons and more ammunition as a result of the war.
Ischinger said that the supplying and resupplying of Ukraine with heavy weapons, such as tanks, missiles, air defense systems, and drones, should be "controlled and coordinated" by the EU, as well as by the governments of individual member states. He added that regular meetings of Western countries that support Kiev with arms and military equipment at the US Ramstein Air Base in Germany are not enough. "They are certainly very helpful, but we need a political prioritization so the industry would have necessary specifications," he said.
Moscow has repeatedly urged the collective West to stop "pumping" Ukraine with weapons, maintaining that doing so will only prolong the hostilities and the suffering of common Ukrainians, rather than change the ultimate outcome of the conflict.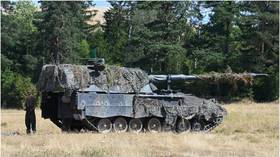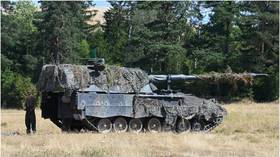 From 2008 to 2022, Ischinger served as chairman of the Munich Security Conference, the largest annual multinational security policy event of its kind. The conference was the platform where, back in 2007, Russian President Vladimir Putin first voiced his concerns about NATO's eastward expansion and warned that a unipolar model was not only "unacceptable, but outright impossible" for the modern world.
Now a proponent of even further militarization of Europe, Ischinger previously had a hand in the Ukrainian turmoil as well. In early 2014, he was tapped by the Organization for Security and Cooperation in Europe (OSCE) to become its representative tasked with establishing a 'dialogue' in Ukraine following the Maidan coup, which toppled the democratically elected President Viktor Yanukovich and ushered in the years-long conflict in the country's east.
Russia sent troops into Ukraine on February 24, 2022, citing Kiev's failure to implement the Minsk agreements, which were designed to give Donetsk and Lugansk special status within the Ukrainian state. The protocols, brokered by Germany and France, were first signed in 2014. Former Ukrainian president Pyotr Poroshenko has since admitted that Kiev's main goal was to use the ceasefire to buy time and "create powerful armed forces."
The admission has also been amplified by former German Chancellor Angela Merkel and French President Francois Hollande, who have separately stated the Minsk agreements were never intended to actually be fulfilled but were merely a ruse to buy time for Ukraine to build up its military. (RT)
Azərbaycan24 sosial şəbəkələrdə