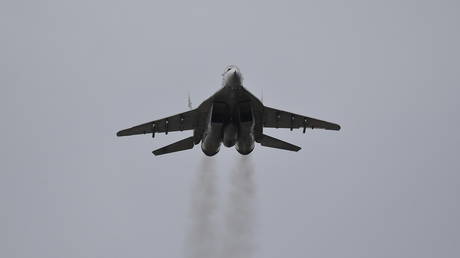 Slovakia is sending Soviet-era planes to Kiev, amid Western reluctance to provide US-made F-16s A MiG-29 jet fighter in the air. © Sputnik / Viktor Tolochko
Slovakia's government has unanimously approved the supply of Soviet-made MiG-29 fighter jets and a Kub air defense system to Ukraine, interim Slovak Prime Minister Eduard Heger has announced.
The delivery will also include spare parts for the hardware and missiles, Heger said at a press conference on Friday.
"Our government is on the right side of history" by providing Kiev with the much-needed warplanes amid the conflict with Russia, he said. Heger, who lost a vote of no-confidence late last year, is staying in charge of the cabinet until an early election in September.
According to the interim PM, the jets, which were designed in the USSR in the 1970s, will be used by Ukraine for purely defensive purposes, including intercepting missiles Russian missiles targeting the country's military facilities and energy infrastructure.
Bratislava will be compensated for the planes by the EU through its European Peace Facility funding mechanism, he added. The Defense Ministry said earlier this week that the country will receive €200 million ($212 million) from Brussels.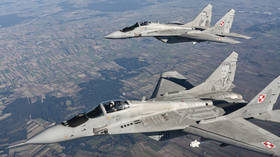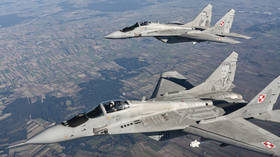 Slovak Defense Minister Jaroslav Nad said at the press conference that Slovakia will eventually send ten MiGs with engines and another three aircraft without engines to Ukraine. Kiev has trained pilots to fly the Soviet-era planes and a facility to service and repair them, he said.
Heger also rebuffed claims from his political rival and former prime minister, Robert Fico, who warned that the delivery of planes to the neighboring country could drag Slovakia into the conflict between Ukraine and Russia. Bratislava acts as part of NATO, with the planes being provided to Kiev in coordination with Poland and other allies, he explained.
On Thursday, Polish President Andrzej Duda announced that Warsaw would supply four "fully operational" MiG-29s to Kiev "in the coming days." Around a dozen jets will eventually be delivered, he added.
Shortly afterwards, Ukrainian Air Force spokesman Yury Ignat said that the Soviet-made planes are "unlikely to dramatically change the situation on the contact line." According to Ignat, Kiev needs American F-16 fighter jets, which the US and its allies have so far been reluctant to provide.
Speaking about the deliveries of MiG-29s to Kiev on Friday, Kremlin Press Secretary Dmitry Peskov warned that the planes, will be destroyed by Russian forces just like the other weapons sent to the country. Peskov also said he has the impression that Western countries have simply been using Ukraine to "dispose of old hardware that they do not need anymore." (RT)
Azərbaycan24 sosial şəbəkələrdə