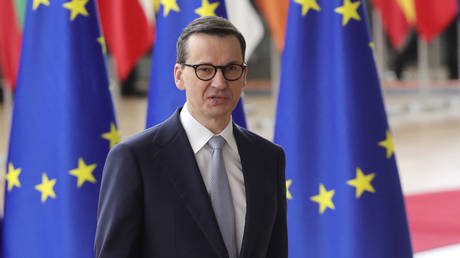 Warsaw will nevertheless push Brussels to hit Moscow with fresh restrictions, Mateusz Morawiecki has said Mateusz Morawiecki arrives for an EU summit at the European Council building in Brussels, Belgium, March 24, 2023 © AP / Olivier Matthys
The EU is suffering from sanctions "fatigue" and has "less appetite" to impose further economic penalties on Moscow, Polish Prime Minister Mateusz Morawiecki said on Saturday. The sanctions proposed by Morawiecki will likely be opposed by some of the bloc's members.
Speaking to Poland's RMF radio station, Morawiecki said that his government is constantly reporting back to Brussels on "holes and loopholes that Russia uses to circumvent sanctions," while "directing" the bloc on what to target with each subsequent sanctions package.
While the issue of further anti-Russian sanctions will return to the EU agenda "in the coming weeks," Morawiecki conceded that "today there is much less willingness and appetite for further sanctions."
The EU has imposed ten rounds of economic sanctions on Russia since the start of Moscow's military operation in Ukraine last February. These sanctions have cut the bloc off from Russian oil and gas, blacklisted Russian officials and their families, and banned the trade of most goods with Russia.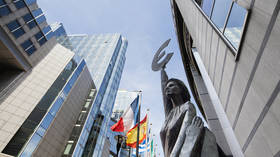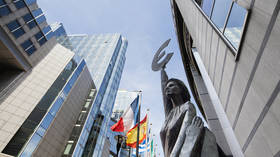 Read more
EU may target Asian nations over Russia sanctions – Telegraph
According to the IMF, the Russian economy is still projected to grow faster than that of Germany, formerly the EU's economic powerhouse. Europe, meanwhile, is reeling from an historic energy crisis and struggling with record inflation. In Poland, the inflation rate hit 18.4% in February, its highest level since 1996.
Amid a growing consensus that the sanctions policy has failed, EU foreign affairs chief Josep Borrell stated earlier this month that "there is not much more to do from the point of view of sanctions." Morawiecki, however, wants the bloc to press ahead with more sanctions, telling RMF that a potential 11th package should include restrictions on Russian diamonds and Rosatom, the country's state nuclear energy corporation.
The latter request would likely be blocked by Hungary, which depends on Russian uranium to power its sole nuclear plant and is currently in the process of constructing two new reactors with Rosatom at the facility. Hungarian Prime Minister Viktor Orban said in January that he would "not let nuclear energy be included in the scope of sanctions."
Estonia, Latvia, and Lithuania all back sanctions on Rosatom. It is unclear whether Finland and Bulgaria – both of whom power their reactors with Russian nuclear fuel – would support such a measure. (RT)
Azərbaycan24 sosial şəbəkələrdə