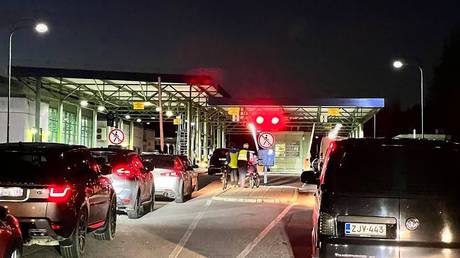 The bloc seeks to "hurt" ordinary Russians, the Foreign Ministry said FILE PHOTO: Cars on the Russian-Finnish border, 2022. © Igor Petrov / Sputnik
By unleashing sanctions on ordinary Russians traveling to the EU, Brussels wants to set up a new Iron Curtain on the continent, the Russian Foreign Ministry has said.
"The ban on direct flights, the tightening of the visa policies, and now the 'clarification' about sanctions, are specifically directed at hurting ordinary Russians by essentially making it impossible for them to enter the European Union," the ministry said in a statement on Monday.
"It is now completely clear now that the current EU leadership intends to lower an 'Iron Curtain' by greatly limiting the ability of people to communicate with one another."
The ministry warned that individual EU member states would not be able to "hide behind the back of Brussels" and would still be "held accountable" for the persecution of Russian nationals. Moscow also urged its citizens to "consider all risks" when planning to visit "unfriendly" countries.
The European Commission confirmed this month that the seizure of cars and other personal items brought in by Russian nationals was in accordance with the sanctions placed on Moscow in 2014 and expanded in the wake of Russia's military operation in Ukraine, which was launched in February 2022. The restrictions, which also apply to tourists and people relocating from Russia, are intended to "significantly weaken Russia's economic base," the bloc said.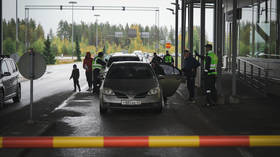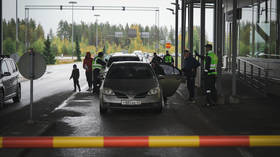 Read more
EU state gives Russians six months to take cars home
Several EU countries have pledged to strictly enforce new guidelines on sanctions. "This means that no passenger car registered in Russia will be able to enter Polish territory," Polish Interior Minister Mariusz Kaminski said on Saturday.
Moscow, for its part, slammed the restrictions as discriminatory and "racist." Foreign Ministry spokeswoman Maria Zakharova has argued that there was "simply no justification" for taking away property of ordinary citizens.
Coined by Winston Churchill, the term Iron Curtain was used to describe the policies of the Soviet Union and its allies in Europe, which severely restricted the movement of their citizens to the West. (RT)
Azərbaycan24 sosial şəbəkələrdə