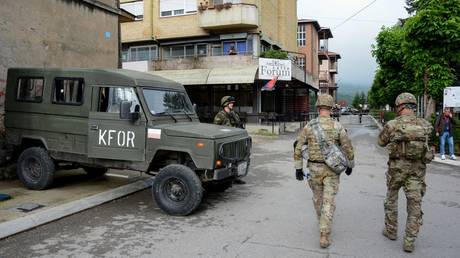 The French president said he also urged Pristina to grant more autonomy to Serb-majority districts NATO soldiers patrol the streets in Zvecan, Kosovo, June 1, 2023. © AFP
The leaders of France and Germany have urged Kosovo to hold new elections in several northern municipalities, hoping to ease tensions in the region following heated protests by local Serbs over the election of Albanian mayors.
In comments to reporters after meeting with Kosovo's President Vjosa Osmani and her Serbian counterpart, Aleksandar Vucic, in Moldova on Thursday, French President Emmauel Macron said he and German Chancellor Olaf Scholz both called for another round of voting in the disputed districts.
"We have asked the two parties to organize new elections in these four municipalities as soon as possible, with an undertaking from Kosovo with participation in these elections in a clear manner on the part of the Serbian side," Macron said, adding that he also pressed for the creation of an association of Serb municipalities in order to grant more autonomy to the northern districts.
Unrest erupted in Serbia's breakaway region of Kosovo earlier this week after the government validated election results in the north despite a tiny voter turnout of just 3.5%, and confirmed the victories by several ethnic Albanian mayors in largely Serbian towns. At least 52 Serbian protesters were injured in clashes with NATO security forces on Monday, as were 30 troops from the US-led military bloc.
Though Kosovo's president said it would be possible to hold new elections, she noted that would only take place if 20% of local residents supported a repeal of the last vote.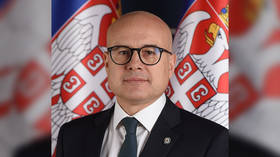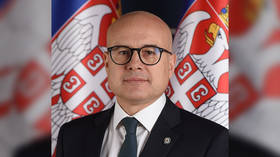 Read more
Serbian military issues warning over Kosovo violence
"It's a very democratic process. We allow our citizens to determine whether they want new elections and, I believe without a problem, we can move forward with that, but we need participation from their side," Osmani said, referring to Serbian citizens who had boycotted the prior election.
Serbia's Vucic did not comment on his meeting with Osmani in Moldova, but said earlier that Kosovo should remove the "alleged mayors" in the north and withdraw special forces troops deployed to ethnic-Serbian districts.
Kosovo has seen several waves of unrest since NATO's 1999 bombing campaign. In 2008, the Western-backed Albanian authorities unilaterally declared independence from Serbia, a move quickly backed by the US and many other Western countries. Some states continue to view Kosovo as part of Serbia, however, among them Russia and China.
Moscow has said NATO is to blame for the recent hostilities, with the Russian Foreign Ministry recently stating the alliance had become "a source of unnecessary violence" and an "escalation factor" in Kosovo. (RT)
Azərbaycan24 sosial şəbəkələrdə