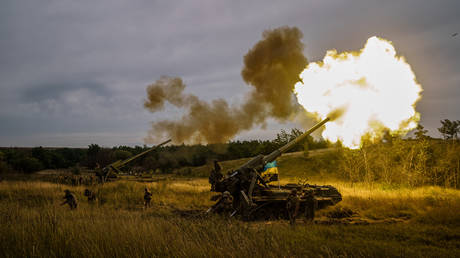 The bloc is struggling to further support Kiev with arms due to a lack of raw materials, sources told the outlet FILE PHOTO. © Ihor THACHEV / AFP
The EU defense industry's ability to provide Ukraine with military supplies has been hampered by a deficit of explosives, The Financial Times reported on Sunday, citing sources.
Several European officials and arms manufacturers told the outlet that the bloc's military plants are suffering from scarce supplies of gunpowder and TNT, which could delay plans to boost shell production by three years. The sources also complained that this meant the defense industry would be unable to meet the soaring demand "regardless of how much money is thrown at the problem."
"The fundamental problem is that the European defense industry is not in good shape for large-scale war production," one German official told the outlet.
These concerns were echoed by Jiri Hynek, who chairs the Defense and Security Industry Association of the Czech Republic. He said, as quoted by the FT, that while building a new artillery factory "is very easy," it is impossible to produce shells without raw materials.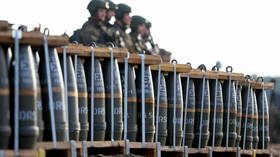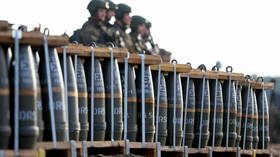 Read more
EU urged to embrace 'war economy'
The official proceeded to point out that "it's not possible to increase, in a short time, nitrocellulose" production, which is the basic ingredient in gunpowder. "If I want to increase production of gunpowder I need probably three years," he added.
To remedy the situation, the EU needs to find new sources of supply, according to Italian defense official Gianclaudio Torlizzi. He told the FT that the continent needs to approach countries that it had traditionally stayed away from. "Each European country wants to protect its availability of raw materials," he explained.
EU officials have repeatedly voiced concerns about their dwindling arms stocks due to the bloc's support of Ukraine. Last December, EU foreign policy chief Josep Borrell lamented that years of underinvestment had resulted in military stocks quickly running out. Against this backdrop, several key European officials have urged the bloc to switch over to a "war economy."
Meanwhile, on Thursday, the New York Times reported that the US and its allies were running out of ammunition for Ukraine, which is burning through thousands of shells each day in the battle for the key Donbass city of Artyomovsk (called Bakhmut in Ukraine). According to the newspaper, Western officials worry that this process is "unsustainable" and could jeopardize Kiev's planned springtime campaign.
Moscow has been warning Kiev's Western backers that their military supplies would only prolong the hostilities rather than change the outcome and would make the countries providing such aid direct participants in the conflict. (RT)
Azərbaycan24 sosial şəbəkələrdə