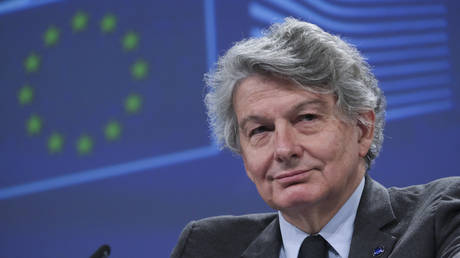 Thierry Breton said Kiev would never join the US-led bloc while its conflict with Russia continued, as that would spell a major war European Commissioner for Internal Market Thierry Breton © Getty Images
Ukraine stands no chance of becoming a member of NATO as long as it is locked in a military conflict with Russia, European Commissioner for Internal Market Thierry Breton has predicted. The official explained that if Kiev were to be admitted into the US-led military bloc now, it would automatically lead to all of the other members getting directly involved in the fighting.
In an interview with France's LCI TV channel on Monday, Breton said: "As long as the conflict continues on European territory, Ukraine cannot become a member of NATO," noting that "otherwise, under Article 5 of the North Atlantic Treaty, this will mean entry into the conflict of all of the countries in the alliance."
The EU commissioner praised Brussels for the way it was keeping its promise to provide Kiev with one million artillery shells within a year, adding that the bloc is planning to ramp up ammunition production on its territory in the long term as well.
Speaking at a press conference with NATO Secretary General Jens Stoltenberg as the alliance wrapped up its summit in Vilnius in July, Ukrainian President Vladimir Zelensky acknowledged that it was "logical and understandable" that "some are afraid to talk about our membership in NATO, because no one wants to start a world war."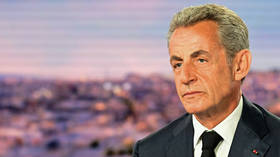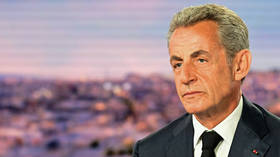 He added that "Ukraine understands that it can't be a member of NATO as long as the war [with Russia] continues."
Earlier, the Ukrainian head of state slammed the military bloc over its "indecisiveness" and "weakness" – much to the annoyance of the US delegation, as several media outlets claimed at the time.
While NATO did reaffirm its readiness to grant Ukraine membership at some unspecified point in the future, its final statement made it clear that this would only happen "when allies agree and conditions are met."
Commenting on the prospect of Ukraine's immediate accession, White House National Security Advisor Jake Sullivan argued at the time that, at the moment, granting Ukraine NATO membership would lead the US-led military bloc "into a war with Russia."
President Joe Biden, in turn, noted that it was "premature" to talk about Kiev's accession, adding that the country would need to carry out more reforms and achieve "democratization" first. (RT)
Azərbaycan24 sosial şəbəkələrdə