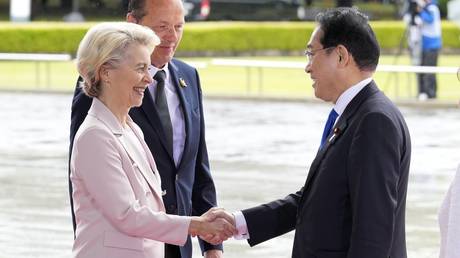 Ursula von der Leyen appeared to suggest that Moscow was responsible for the bombing of Hiroshima FILE PHOTO: Japanese Prime Minister Fumio Kishida shakes hands with European Commission President Ursula von der Leyen in Hiroshima, Japan © Franck Robichon / Pool via Getty Images
European Commission President Ursula von der Leyen has appeared to imply that Russia, rather than the US, dropped an atomic bomb on the Japanese city of Hiroshima during World War II.
The top EU official was invited to an event hosted by pro-NATO think tank the Atlantic Council on Thursday, where she introduced Japanese Prime Minister Fumio Kishida and described him as "an ally and a friend."
Much of von der Leyen's speech was dedicated to condemning Russia for the conflict in Ukraine, as well as praising Japan for joining the US-led campaign to punish Moscow.
Recalling her visit to Hiroshima for a meeting of G7 leaders earlier this year, von der Leyen said: "Many of your relatives lost their lives when the atomic bomb razed Hiroshima to the ground. You have grown up with the stories of the survivors and you wanted us to listen to the same stories to face the past and learn something about the future."
She described the experience as "sobering," especially in the context of a period "when Russia threatens to use nuclear weapons once again."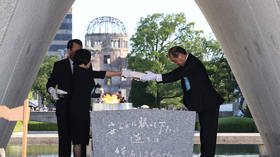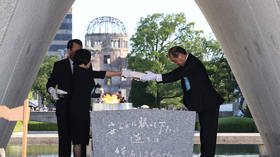 Read more
Japan ignores US role on Hiroshima bombing anniversary
The US bombed Hiroshima two days before the USSR declared war on Imperial Japan in the final act of World War II. Washington dropped a nuclear bomb on Nagasaki shortly afterwards, and the two operations remain the only cases in history in which nuclear weapons have been used in a war.
Von der Leyen made no mention of the US in her speech, following an apparent pattern of Western obfuscation of Washington's role in the nuclear bombings of Japan. Kishida did the same when hosting the G7 summit in August.
The Japanese prime minister was one of several honorees of the Atlantic Council's Global Citizen Award this year. The others were Ukrainian President Vladimir Zelensky, German Chancellor Olaf Scholz, and US Treasury Secretary Janet Yellen. The think tank described the event as a "tribute to selflessness and cooperation in the face of autocratic aggression."
Russia considers the Ukraine conflict to be part of a Western proxy war being waged against it. Moscow's military doctrine reserves its nuclear arsenal for situations in which the country's existence is threatened. President Vladimir Putin assessed in June that the conflict in Ukraine was nowhere near that threshold. (RT)
Azərbaycan24 sosial şəbəkələrdə