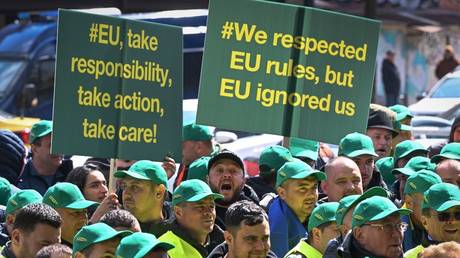 The "exceptional and temporary" measure replaces bans by individual countries File photo: Romanian farmers protest Ukrainian grain imports in Bucharest, April 7, 2023. © Daniel Mihailescu/ AFP
The European Union has blocked the import of Ukrainian wheat, maize, rapeseed and sunflower seed to five member states for at least a month. The measure went into effect on Tuesday evening and is scheduled to expire June 5, unless it is extended.
The European Commission announced the "exceptional and temporary preventive measures on imports" of the four items to "alleviate logistical bottlenecks" in Bulgaria, Hungary, Poland, Romania and Slovakia. The EU regulation supersedes the state-level bans enacted by some of those governments.
Kiev can still use "a common customs transit procedure" to export the grain and seed-oil components to other EU member states or outside the bloc, but cannot sell them to the five "frontline" countries.
Sofia, Budapest, Warsaw and Bratislava had "committed to lift their unilateral measures" on the four items "and any other products coming from Ukraine," the Commission said. In return the EU will provide "financial support" to their farmers. No number was provided in Tuesday evening's statement, but media reports last week spoke of a €100 million ($110 million) package.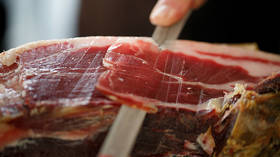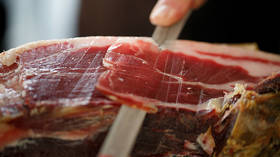 Read more
Grain from Ukraine went to pigs in Spain – report
According to the Commission, the measure was enacted to address the concerns of farmers in the five border countries, while upholding the EU's "strong commitment to support Ukraine and preserve its capabilities to export its grains" described as "critical to feed the world and keep food prices down" in the face of "Russian aggression."
The same justification was invoked last year, when the EU suspended tariffs on imports of Ukrainian agricultural goods. Kiev has argued that letting Ukraine export its grain via the EU and the Black Sea Initiative would help countries in Africa and Asia dependent on food imports. In practice, the arrangement flooded the EU with cheap raw materials, endangering the livelihoods of farmers in neighboring countries, whose work is highly regulated by Brussels.
The EU did not mention any of that in its announcement, however, saying only that the imports resulted in "saturated storage capacities and logistical chains."
Meanwhile, Russian grain and fertilizer remain blocked from reaching the rest of the world, because the US and EU sanctions against Moscow's shipping industry have closed off all avenues for their transportation. Russia has warned that, unless that part of the Black Sea Initiative is implemented, it will stop participating in the deal. (RT)
Azərbaycan24 sosial şəbəkələrdə