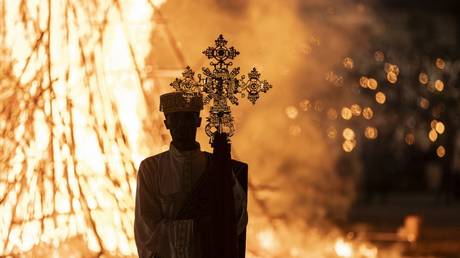 The Meskel holiday commemorates the 4th-century discovery of what's known as the True Cross, which had been used to crucify Jesus A bonfire during the celebrations of the Ethiopian Orthodox holiday of Meskel in Addis Ababa on September 27, 2023. © Amanuel Sileshi / AFP
Orthodox Ethiopians celebrated the commencement of Meskel, a Christian festival officially observed by the Orthodox Church of Ethiopia, on Wednesday.
This event honors Saint Helena's discovery of the True Cross in 4th-century Palestine, the cross believed to have been used in the crucifixion of Jesus. Legend holds that the smoke from a ceremonial bonfire guided Helena to this sacred relic, with a fragment of it eventually believed to have made its way to Ethiopia.
The central ceremony unfolded before the country's main church, drawing orthodox leaders, diplomats, and government officials. The festivities culminated with thousands gathering around a bonfire, a symbolic act believed to cleanse them of sins.
Notably, the Christian Meskel festival coincided with the Muslim celebration of Mawlid this year, marking the birth of the Prophet Mohammed. In Ethiopia, there is a tradition of mutual respect, with Christians and Muslims, who comprise significant parts of the population, acknowledging each other's special occasions.
Speaking to RT on Sunday, Ahmed Zekaria, a Muslim cleric, said the African country could be a "good example of tolerance when it comes to living together of these different religions." He highlighted how mosques and churches "live side by side," adding that it's a "good sign" that different faiths are "coming to reconciliation and having a peaceful future."
Meanwhile, a joint choir from the Trinity-Sergius Lavra and the Moscow Theological Academy performed at Meskel Square in Addis Ababa, Ethiopia, as part of the Meskel holiday celebrations on September 27.
Azərbaycan24 sosial şəbəkələrdə