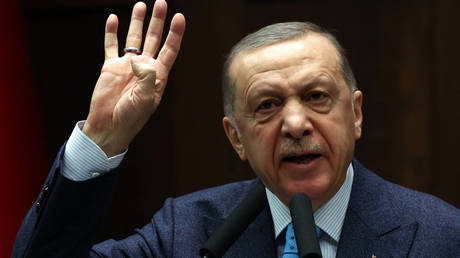 Paris has seen its clout in Africa diminish under the French leader, Türkiye's president claimed Turkish President Recep Tayyip Erdogan speaks during a group meeting at the Turkish Grand National Assembly in Ankara on January 18, 2023. © Adem ALTAN / AFP
Emmanuel Macron is unfit to be French president and has overseen a significant deterioration in relations with Africa, his Turkish counterpart Recep Tayyip Erdogan has suggested. Erdogan claimed that with Macron at the helm, Paris is losing influence globally.
Speaking at a youth gathering in Bilecik province in western Türkiye on Sunday, Erdogan said that "the person at the head of France does not have the experience to be at the head of that state."
The Turkish leader pointed to recent developments in Paris' relations with African nations to support his case. "Look, they are exploiting African countries right now. Mali is in a complete break with France right now," Erdogan argued.
The Turkish president also noted that Burkina Faso has given French troops one month to leave the country. Earlier in January, the West African nation suspended a 2018 agreement on the deployment of French service members on its territory. Relations between Paris and its former colony have been on a downward spiral, with the local population blaming France for its perceived inability to combat Islamic extremists. "And I think that Togo, they will send [the troops out] too," Erdogan added.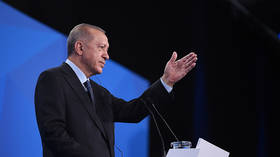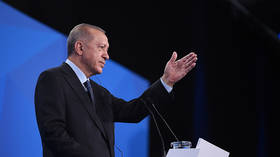 Read more
NATO hopeful could be 'shocked' by Türkiye – Erdogan
According to the Turkish leader, France "is rapidly losing its reputation" in Africa. "We have had many meetings with them, at international meetings and so on, but they are not honest," Erdogan claimed. Macron has also "lost his credibility in parliament," the Turkish president stated. "France is constantly losing credibility, and it is losing credibility in the international community."
"Of course, there are many leaders like this in the world," Erdogan continued, without elaborating. Unfortunately, "in the relations with Greece in the Mediterranean, they ignore Türkiye and enter into different relations with them."
Macron and Erdogan have frequently engaged in verbal clashes. One of the most notorious incidents took place in 2020, when the Turkish president suggested that his French counterpart "needs mental treatment" while criticizing Macron's attitude toward Islam and Muslims.
At the time, Macron said that radical Muslims in France were guilty of "Islamist separatism." In response to Erdogan's comments, Paris recalled its ambassador to Türkiye for consultations. (RT)
Azərbaycan24 sosial şəbəkələrdə