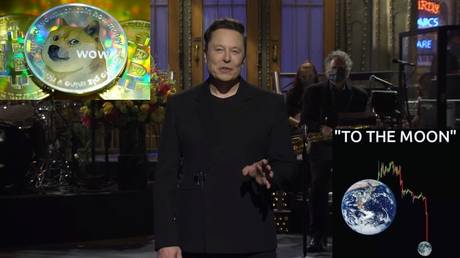 Instead of going "to the Moon," the price of cryptocurrency Dogecoin crashed and burned as the 'Dogefather' Elon Musk hosted an episode of Saturday Night Live.
It was Musk's mother Maye who name-dropped Dogecoin in the opening skit, saying she hoped it wouldn't be her Mother's Day gift.
"It sure is," replied the SpaceX and Tesla founder.
Musk then made an appearance on the 'Weekend Update' segment as a financial analyst calling himself the "Dogefather," hyping the cryptocurrency before agreeing with the cast members that "it's a hustle."
After going up slightly as the comedy show went live, the price of Dogecoin – a meme cryptocurrency with an estimated capitalization of $90 billion by now – went into free fall. It was down by almost 27%, going from 66 cents to 50 cents, in the space of an hour.
It had regained some ground by the episode's closing, going back to around 55 cents.
It didn't help that the sketch comedy show just could not land a joke – at least until a pre-recorded skit making fun of Musk's Mars colonization push, featuring actors Pete Davidson and musical guest star Miley Cyrus.
The eccentric billionaire may have actually tried to warn everyone, introducing himself as "the first person with Asperger's to host SNL… or at least the first to admit it," and joked that he was "pretty good at running 'human' in emulation mode." (RT)