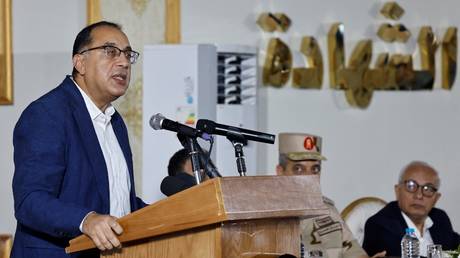 Despite Israel's request to European leaders to intervene, Cairo will not take in people fleeing from Gaza Egyptian Prime Minister Mostafa Madbouly speaks during a visit to the city of Al-Arish, some 45km from the Rafah border crossing with Gaza on October 31, 2023. © Khaled DESOUKI / AFP
In light of issues in Egypt over whether Palestinian refugees should be accepted, the country's Prime Minister Mostafa Madbouly visited northern Sinai on Tuesday and vowed that his country is determined to safeguard its territory and maintain its sovereignty over it.
Addressing members of parliament, tribal and military leaders as well as public figures assembled at al-Arish near Egypt's borders with Gaza and Israel, Madbouly said: "We are prepared to sacrifice millions of lives to ensure that no one encroaches upon our territory."
According to the prime minister, Cairo intends to expand its plans to develop and reconstruct the Sinai Peninsula in the near future, demonstrating that "Egypt remains committed to the region."
The UN Secretary General's spokesperson Stephane Dujarric said that the involuntary relocation of Palestinians is unacceptable. "We stand clearly against the forced mass displacement of people, full stop. And we've seen in other places around the world and we've been consistent in that," he claimed on Tuesday.
President of Egypt Abdel Fattah el-Sisi said on October 21 that Cairo rejected "any attempt to liquidate the Palestinian issue by military means or through the forced displacement of Palestinians from their land."
Egyptians see as a matter of concern that the 2.3 million people currently living in Gaza could end up in Sinai.
As the Financial Times reported, Benjamin Netanyahu, the Israeli prime minister, aimed to persuade European leaders to put pressure on Cairo to accept Gazans last week. According to the source, France and Germany refused the request to persuade Egypt to accept the agreement. Jordan also refused to accept refugees from Gaza.
.mediaplayer { min-height: 150px; } .jwplayer .jw-controls .jw-controlbar .jw-icon-cc { display: none; }
.media__video_noscript { position: absolute; top: 0; left: 0; right: 0; bottom: 0; height: 100%; width: 100%; } .full_transcript_text { display: block; }
(RT)
Azərbaycan24 sosial şəbəkələrdə