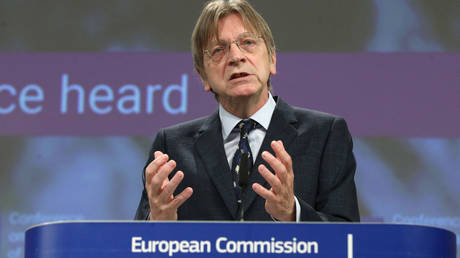 Despite the bloc's attempts to punish Russia, imports from the country have soared, Guy Verhofstadt says Member of the European Parliament Guy Verhofstadt. © Francois WALSCHAERTS / POOL / AFP
The EU's sanctions on Russia over the Ukraine conflict have been a complete failure, Belgian member of the European Parliament Guy Verhofstadt said on Monday. He added that the EU was only "rewarding" Russia by increasing imports from the country.
Writing on Twitter, Verhofstadt, who served as Belgian prime minister from 1999 to 2008 and has been an MEP since 2009, claimed that the effect of the EU's nine packages of sanctions on Moscow "is less than 0."
The former PM said that in the bloc's attempts to punish Russia, it has achieved the opposite result. "We are rewarding Russia for its war against us!"
Verhofstadt also posted a chart titled 'Still Filling Putin's Coffers', showing Russia-EU trade from February to August 2022. The graphic, which cites Eurostat data, shows that most EU member states, including Germany, France, Italy, and Poland, significantly increased imports from Russia. In total, only seven EU members were buying less from the country.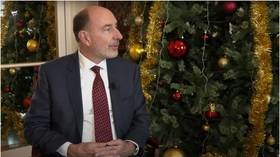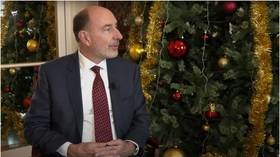 Read more
US making Europeans suffer – de Gaulle's grandson
Following the start of Russia's military operation in Ukraine, the EU imposed unprecedented sanctions on Moscow, targeting entire sectors of the economy. In December, the bloc, along with the G7 countries and Australia, introduced a price cap on Russian seaborne oil, setting it at $60 per barrel. In response, last week, President Vladimir Putin signed a decree banning the supply of oil and petroleum products from Russia to countries which apply these restrictions.
The sanctions on Russia have exacerbated the bloc's energy crisis, causing fuel prices and the cost of living to soar. This has prompted protests against the sanctions policy in several EU countries. In December, a demonstration organized by the right-wing Patriots party took place in Paris against the government's stance on Russia and France's membership in NATO.
In his New Year's address, Putin said that the West's "full-blown sanctions war" against Moscow has largely failed to undermine the economy.
Azərbaycan24 sosial şəbəkələrdə