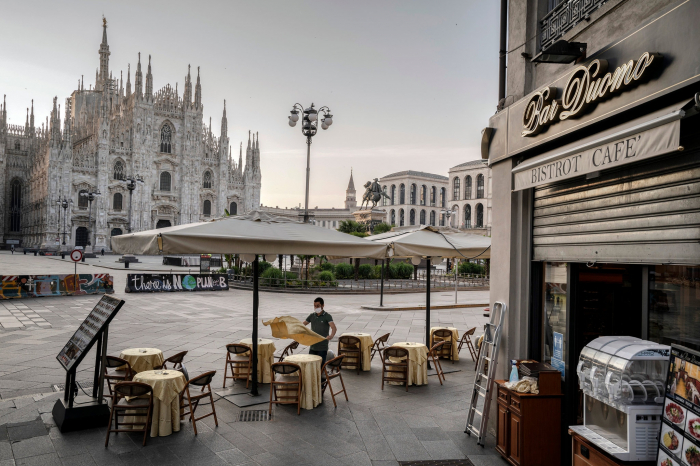 The European Union's executive arm laid out on Wednesday the details of a recovery package worth 750 billion euros, or about $826 billion, for its 27 member economies, especially those hit hardest by the coronavirus pandemic and lockdowns put in place to stop its spread.
Europe's recovery effort will be difficult and expensive, as some of its economies are set to shrink as much as 10 percent this year. Germany and other wealthy countries have their own funds available to spend immediately to prop up their economies, but poorer European Union members need help.
The program, which was presented by the European Commission president, Ursula von der Leyen, in an address to the European Parliament on Wednesday, hinges on using its own budget to issue bonds in international capital markets, and then distributing the proceeds according to members' needs. It is seen as a breakthrough for the bloc's integration, even if it is a one-off.
The fund will distribute €500 billion worth of grants — free money that will not be piled on to national debt — to all 27 member states, with Italy getting the largest slice, followed by Spain. This is a crucial element of the recovery effort, which was opposed by some of the bloc's wealthier nations like the Netherlands and Sweden, but supported by both Germany and France.
European countries will also be able to apply for loans from a €250 billion pot, but that funding will come with conditions and it will count toward debt loads. The loans will also require a cumbersome approval process, and are unlikely to be swiftly available.
As with most things in the bloc's administrative capital, Brussels, the plan is the product of compromise between conflicting visions of what the European Union can do to help its members in times of crisis. It requires unanimous support by all nations, as well as the European Parliament's blessing, and so a long road of negotiations lies ahead before it is finalized.
Japan made similar moves on Wednesday as its cabinet approved more than a trillion dollars in stimulus funds, including a combination of subsidies to companies and people. The Parliament is expected to approve the measure next month.
Japan's proposal follows a raft of measures that the country passed in April. Taken together, the two packages would be equivalent to 40 percent of Japan's economic output, Prime Minister Shinzo Abe told reporters on Wednesday.
New York Times