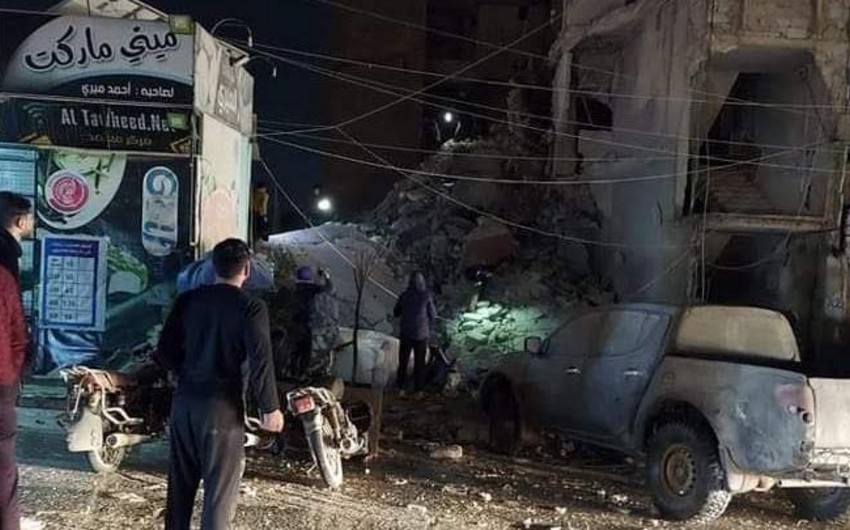 An earthquake measuring a preliminary magnitude 7.8 has hit southern Turkiye near the Syrian border, the US Geological Service has said, killing dozens of people as it sent shockwaves across northern Syria, Cyprus and Lebanon, Report informs via Aljazeera.
The earthquake struck at 4:17am local time (01:17 GMT) on Monday as people were sleeping, at a depth of about 17.9km, the USGS said.
Turkiye's Disaster and Emergency Management Authority (AFAD) put the magnitude of the quake at 7.4 near the cities of Kahramanmaras and Gaziantep, close to the Syrian border. The tremor lasted for about a minute.
Turkish President Recep Tayyip Erdogan said on Twitter that "search and rescue teams were immediately dispatched" to the areas hit by the earthquake.
"We hope that we will get through this disaster together as soon as possible and with the least damage," he wrote.
Interior Minister Suleyman Soylu said there had been at least six aftershocks and urged people not to enter damaged buildings due to the risks.
"Our priority is to bring out people trapped under ruined buildings and to transfer them to hospitals," he said.
The governor of Turkiye's Malatya said at least 23 people had been killed in the city and 420 injured. In Sanliurfa, the death toll was at least 15, with 30 injured, according to the governor there.
Videos shared on social media showed buildings reduced to piles of rubble in several cities in Turkiye's southeast.
Broadcasters TRT and Haberturk showed images of people gathered around destroyed buildings in the town of Kahramanmaras, looking for survivors. Other images showed people taking shelter in their cars on the side of snow-covered roads.
Al Jazeera's Sinem Koseoglu in Istanbul said the earthquake was felt across Turkiye from the southern cities as far north as the Black Sea. She said cities such as Gaziantep were crowded, not only with Turkish citizens but Syrian refugees.
"Some international help might be necessary," she said, noting that poor weather conditions were making the situation worse.
"People are outside. People are scared, and it is very cold."
Turkiye is in one of the world's most active earthquake zones — some 18,000 people were killed in powerful earthquakes that hit the country's northwest in 1999.
There were also reports of damage in northern Syria.
The opposition's Syrian Civil Defence described the situation in the rebel-held region as "disastrous", adding that entire buildings had collapsed and people were trapped under the rubble. The civil defence urged people to evacuate buildings to gather in open areas.
Syria's state media said at least 42 people had been killed and more than 200 injured after buildings collapsed in the northern cities of Aleppo, Hama and Latakia.
In Damascus, buildings shook and many people rushed onto the streets in fear.