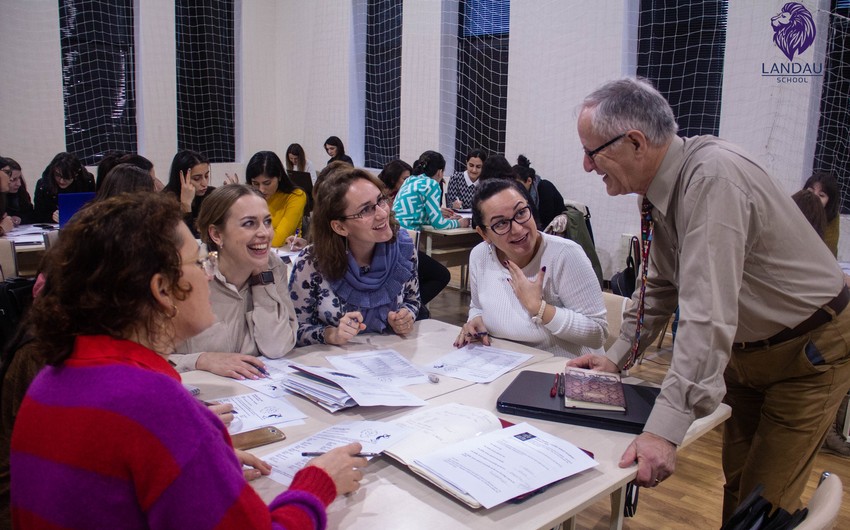 In an interview with Report.az, David Draper, a chief consultant at LANDAU School, discussed the school, LANDAU Academy project, provided some tips to students and young teachers, discussed future plans, and compared Azerbaijani youth to British youth.
Why did you choose education sphere to work? Tell about your experience please.
I think all of us can remember a teacher who inspired us. For me it was my physics teacher. I actually didn't like the subject at all, but the teacher made it come alive. I went on to study arts, and especially history, but never forgot the enjoyment of those physics' lessons. I began work in bank, but after five years, the memory of those school days returned and I was drawn into teaching. The rest, as they say, is history!
How does it feel to be Chief Consultant of LANDAU School?
It is a privilege to work with a truly great team of people, who have a vision for young people that goes beyond teaching into the enjoyment of learning. I have found enthusiasm and commitment, because all those working in the schools feel valued, and able to contribute. I wish I could have been there again over the last fifteen months, but sadly the world has changed around us and my contact has been only virtual. I am now looking forward to the chance to see both new buildings and new teams, and hope I will continue to contribute to assisting in the development of LANDAU.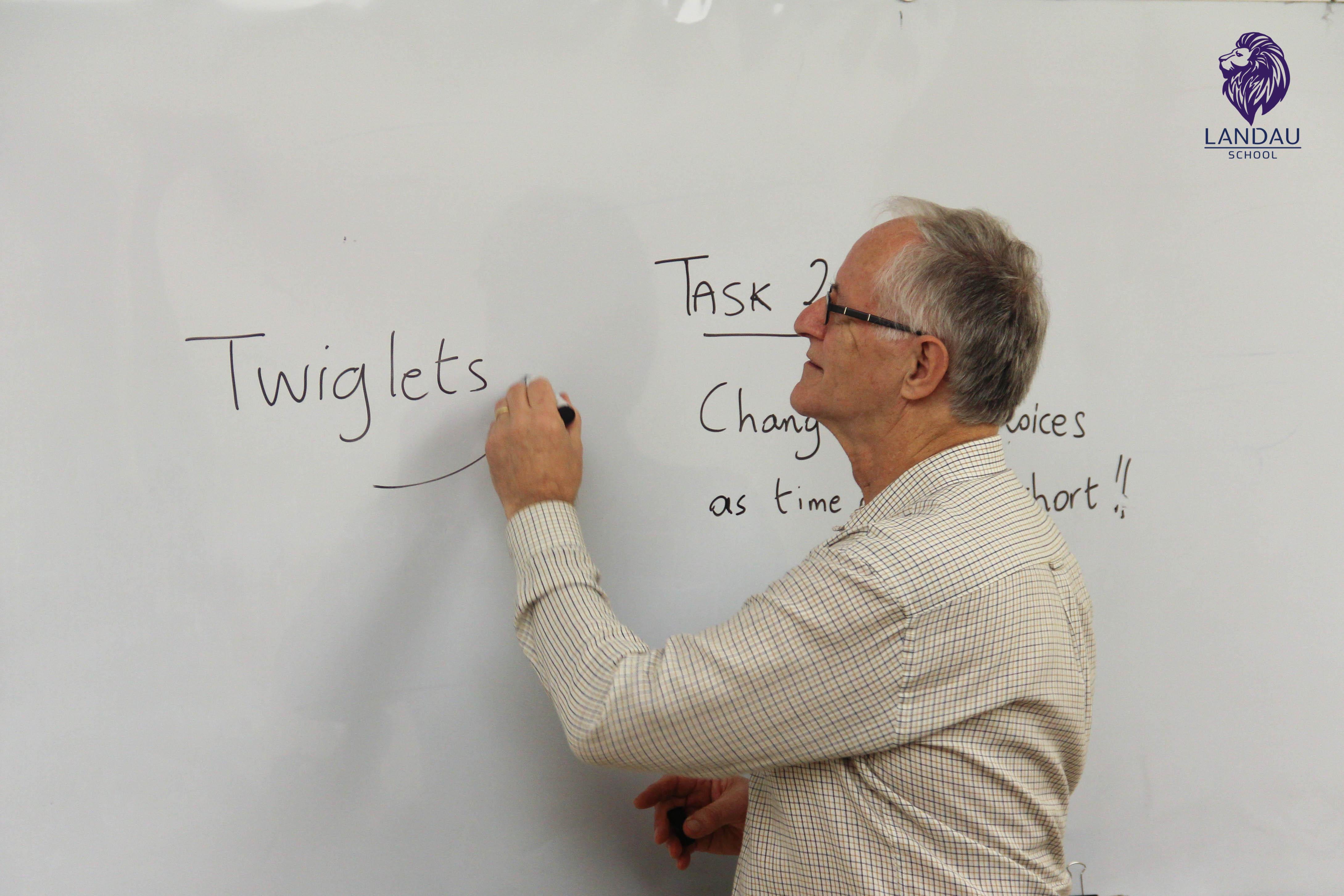 What advice would you give to new teachers during their first year?
Remember three words that begin with the letter 'f'. Young people judge a teacher in minutes so first impressions really do count. In this order, be seen to be 'firm'. Give out initial instructions clearly and with the expectation they will be carried out. Secondly, always be seen to be 'fair. Treating unfairly or even seeming to have favourites is disastrous. You will like some of your students, put up with others and maybe dislike a few. But you are an actor, and this must never show. The thirdly, you will be able to have 'fun'. To relax with the students and allow an atmosphere to develop where students and staff are partners in learning.
What advice can you give to Azerbaijani scholars, applicants?
A key to success in LANDAU would initially be a good grasp of English. This is easy for me to say as a UK citizen. But as the examinations will all be in English, this is the tool to finding success. But beyond this goes a pleasure in learning and a willingness to accept all those in the school. To be successful a school needs to be a place where a student can take risks, and try to seek answers without negative judgments. Perhaps a safe place, or an harmonious one where learning is not for the sake of exams, but as a pleasure in itself.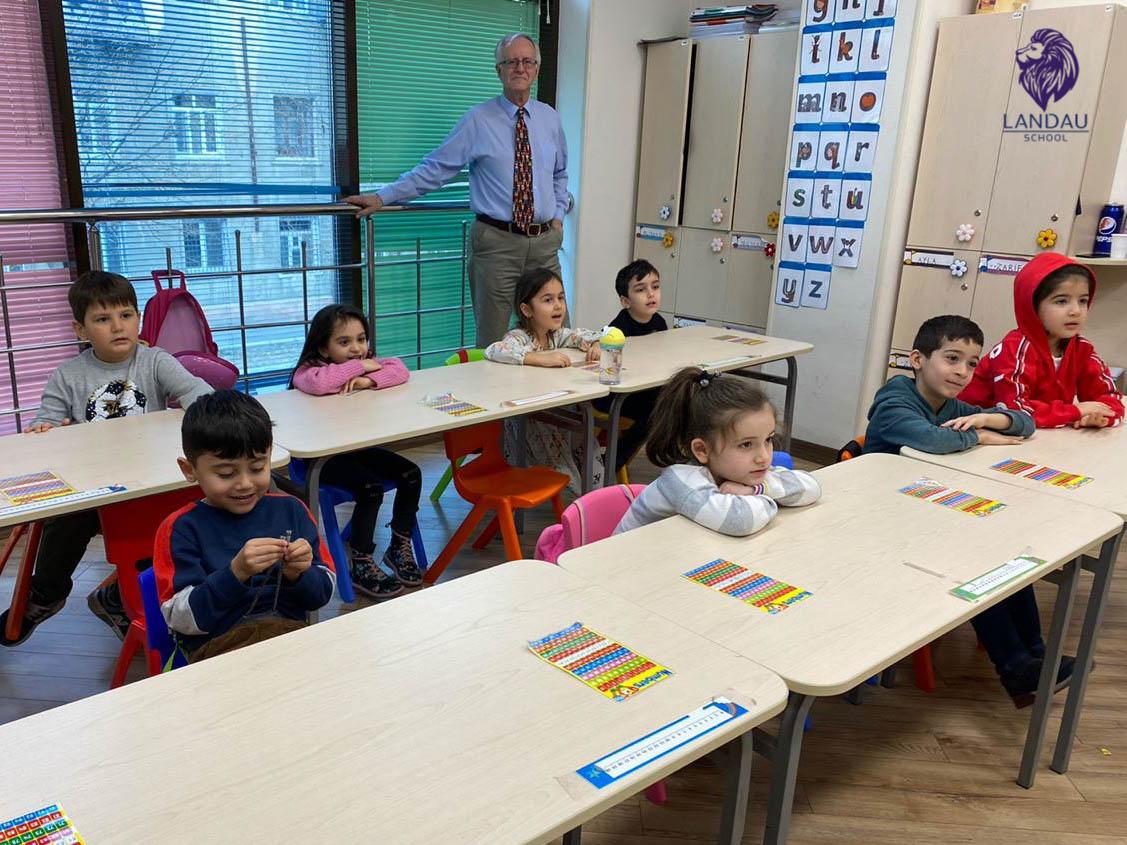 What are the main pledges of quality education?
A quality education is one that instils a love for learning. I believe this means people enjoy learning for its own sake, and not just to pass exams. These are steps we all have, or had, to take to succeed in life, but they should be the steps towards a thirst for continuing to learn. In my country we have an institution called the University of the Third Age. This is just for retired people who want to go on learning. I have one dear friend who is studying for a Philosophy degree, and she is 94 years old.
Can you tell us about LANDAU Academy? What is the main purpose of this project?
Whilst I am sure that teacher training in Azerbaijan is excellent, the concept of an international, mainly British, curriculum is different. The skills of teaching are the same, but the methodology is different. Much of the British Curriculum is designed around the way in which students can be partners in learning, offering their own ideas and conclusions; and being prepared to justify these. LANDAU Academy is a yearlong course designed to introduce already trained teachers into the approaches of a British curriculum, with both lectures and practical work, including observation of lessons taught. It is also a way of student teachers joining LANDAU to work alongside each other, and share in their professional development.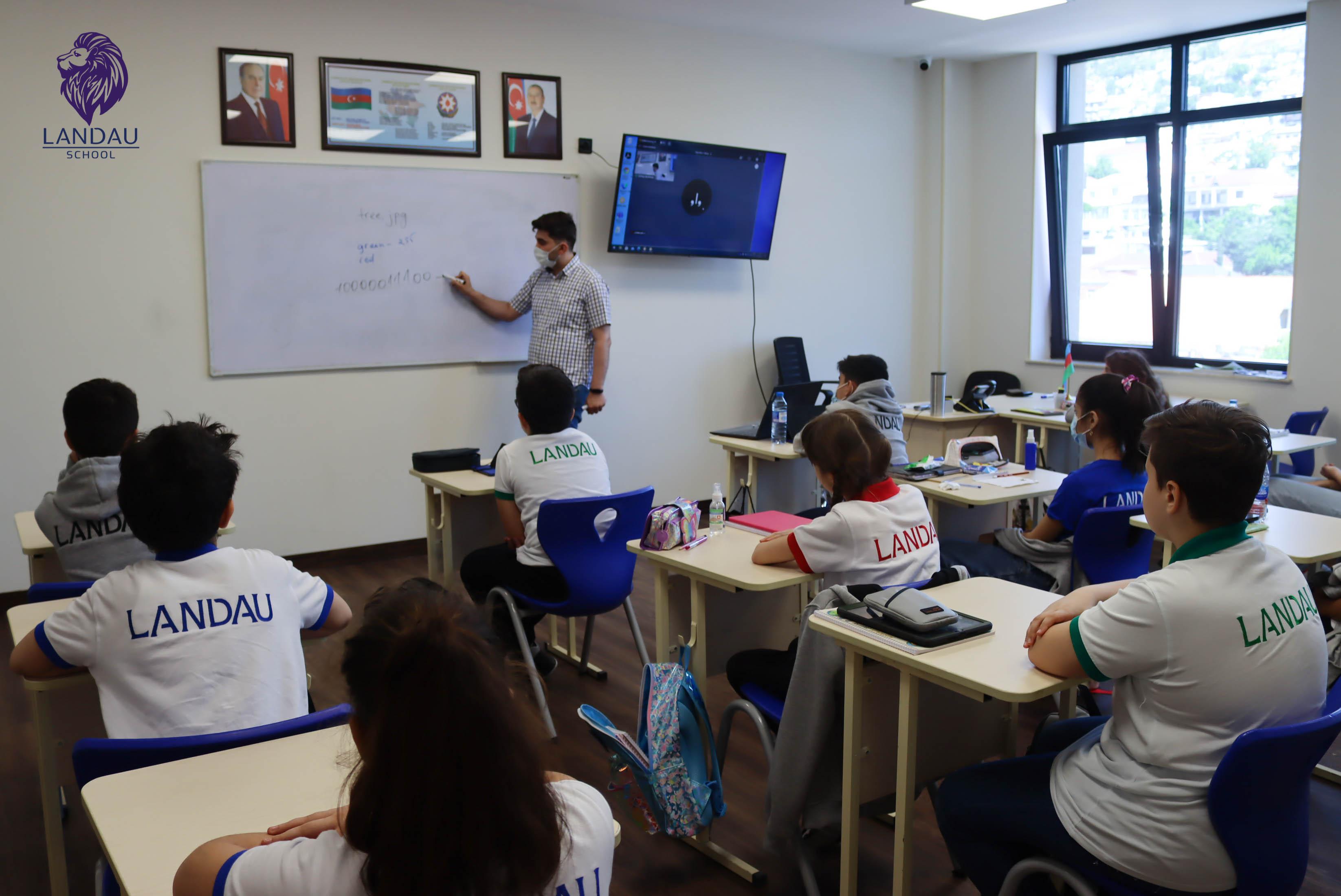 Having worked as a principal and a member of the board of governors for various schools in the UK, Azerbaijan, and Turkey, what steps are you taking to ensure that LANDAU meets the high standards of British schools?
Training is one way, and I have enjoyed taking part in governing board meeting, staff meetings, lesson observations and discussions with the senior management teams. But external recognition is vital and I am delighted that the school has been accepted both by Pearson and Cambridge as fully able to deliver a quality education and examinations up to A-level. Achieving this is hard work, and includes demanding visits by inspectors from the UK. The result of these visits, and acceptance by these bodies, means that LANDAU is at the standard of educational delivery of a school in the UK.
LANDAU School is a perfect combination of British restraint and Azerbaijani impulsiveness. The ambitious nature of the school reflects its symbol, the lion. How did you manage to achieve such a unique tandem?
I have always been thrilled by the value placed on education by Azerbaijani students. They are keen to learn, polite and respectful. Those positive elements allow the perhaps more excitable nature of the culture to fit into our more reticent approach in the UK. The lion is a symbol of strength and courage, qualities needed by us all, and certainly clearly in evidence with the students at LANDAU.
What can you call the strengths of LANDAU School?
The collegiate feel of the school is immediately apparent. There is a culture of acceptance by all, and this can be seen in the mutual respect shown by students and staff, but in a relaxed, friendly approach. Linked to the atmosphere is the quality of teaching, resources to assist and the success of the students in examinations, competitions and sport.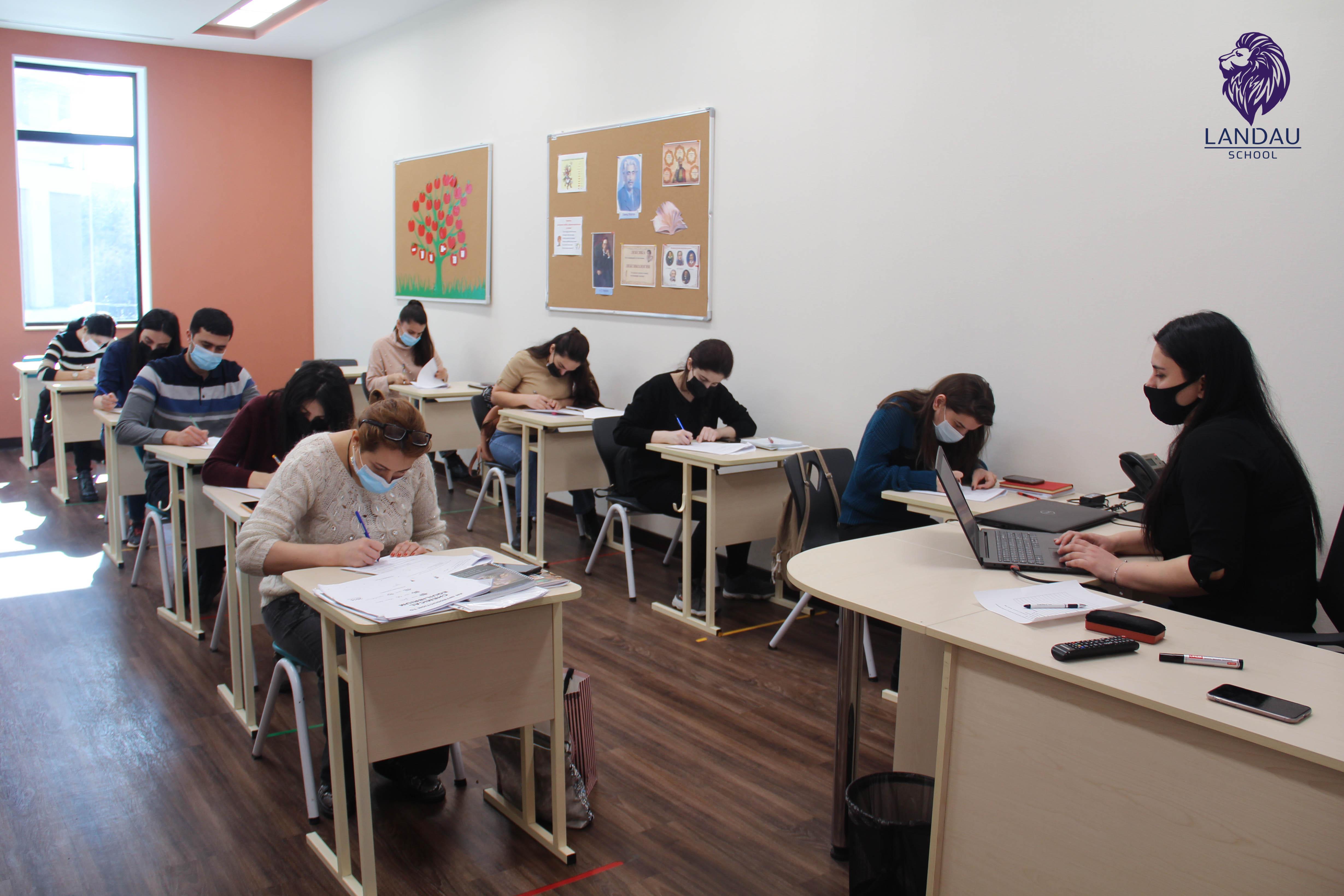 What are LANDAU School's plans for the future?
LANDAU is constantly changing and growing. Now the largest international school in Azerbaijan, the school developed from just a small opening for 123 students three years ago. The school has spread to four campuses, and has plans for more. There are also other branches such as teacher training and university placement. One thing I know, LANDAU keeps growing!
And finally, as a person who knows Azerbaijan both from the outside and from the inside, what can you say about the Land of Fire? How does Azerbaijani youth differ from British youth?
I really valued my six years living in Azerbaijan, together with my regular visits back over the last three years. Most important for me was the warmth of the people, and their acceptance. I was privileged to travel around much of the country. Memories include helping tea leaf sorting at a tea factory near Lankaran, staying on a farm in Ismayilli, and being asked to help judge a homemade jam competition in a village near Sheki. In all places I was made to feel welcome. I think that youth in Azerbaijan are more respectful of adults, as well as polite. I do hope this continues and that the benefits of a modern lifestyle can be combined with this underlying strength found in the culture of Azerbaijan.
Azərbaycan24 sosial şəbəkələrdə
Whatsapp xəttimiz -
070 224 40 25