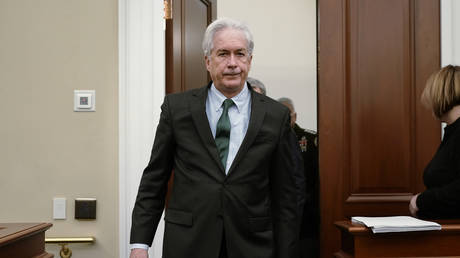 Top diplomats from Tehran and Riyadh met in Beijing on Thursday to re-establish contacts between the longtime rivals FILE PHOTO: CIA Director William Burns arrives to testify at a House Select Committee on Intelligence hearing at the Capitol in Washington, DC, March 9, 2023. © AP / Carolyn Kaster
CIA Director William Burns told Saudi officials that the United States was caught off guard after the kingdom agreed to a normalization deal with Iran brokered by China, according to the Wall Street Journal.
During an unannounced trip to Saudi Arabia this week, Burns "expressed frustration" with Riyadh and said Washington "felt blindsided" by its renewed diplomacy with both Iran and Syria, multiple unnamed sources told the Journal on Thursday.
The foreign ministers of Iran and Saudi Arabia held talks in the Chinese capital on Thursday, where they discussed a number of issues related to the new initiative, including reopening embassies in both countries, designating ambassadors, and even a visit to Riyadh by Iranian President Ebrahim Raisi.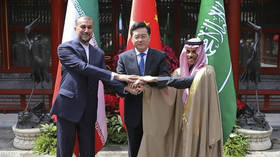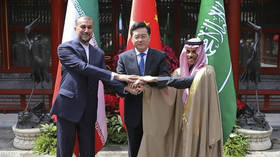 After years of strife as regional adversaries, Tehran and Riyadh struck the normalization pact on March 10 following secret talks mediated by Beijing, agreeing to resume formal diplomatic relations after they cut ties in 2016. The deal marked a major diplomatic achievement for China and a significant shakeup for the geopolitics of the Middle East.
Since the agreement was announced, top diplomats from Saudi Arabia and Iran have spoken on the phone at least three times, and hope to reach compromises on several outstanding issues – namely the war in Yemen, which has raged on for more than eight years and left hundreds of thousands dead.
Tehran is also working to reestablish contacts with the United Arab Emirates, another Gulf monarchy long at odds with the Islamic Republic. Earlier this week, Iranian Deputy Foreign Minister Ali Bagheri said his country had appointed an ambassador to Abu Dhabi for the first time in nearly a decade. Riyadh is also reportedly seeking to reach a similar understanding with Syria, and hopes to invite President Bashar al-Assad for a visit later this year, according to Reuters.
While the White House has welcomed the new diplomacy in public, Burns' reported complaints to Saudi officials this week could highlight concerns over Beijing's growing influence in the region. Tensions between Riyadh and Washington have also been on the rise since last year, when OPEC+ – a group of major oil exporters led by Saudi Arabia – opted to slash production. The move reportedly "angered" President Joe Biden, who claimed the cut would benefit Russia, another large energy exporter. (RT)
Azərbaycan24 sosial şəbəkələrdə