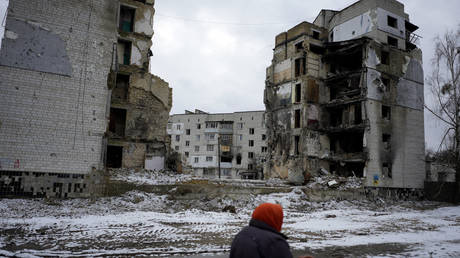 Beijing is urging Moscow and Kiev to resume dialogue "as quickly as possible" A destroyed building in Borodyanka, Ukraine, February 22, 2023. © AP Photo / Thibault Camus
The international community should encourage all efforts to end the Ukraine conflict peacefully, the Chinese Foreign Ministry said in a 12-point political roadmap published on Friday.
In a statement on its website, the ministry urged each side to "stay rational and exercise restraint."
"All parties should support Russia and Ukraine in working in the same direction and resuming direct dialogue as quickly as possible, so as to gradually deescalate the situation and ultimately reach a comprehensive ceasefire," the document said.
"All efforts conducive to the peaceful settlement of the crisis must be encouraged and supported," the plan stressed, adding that Beijing would "continue to play a constructive role" in the matter.
China called for abandoning "the Cold War mentality," arguing that "the security of a region should not be achieved by strengthening or expanding military blocs." There is "no simple solution to a complex issue," the proposal said, and countries should "prevent bloc confrontation" and work towards building "a balanced, effective and sustainable European security architecture."
Beijing warned against "armed attacks" on nuclear power plants and called on the parties to "resolutely avoid man-made nuclear accidents." China also said it opposes sanctions that are not approved by the UN Security Council.
Unilateral sanctions and maximum pressure cannot solve the issue; they only create new problems.
Unlike many Western countries, ChinaA has refused to condemn Russia's military operation in Ukraine and has not imposed economic restrictions on Moscow. Chinese officials have stressed that Beijing wants to find a peaceful solution rather than fuel the conflict by sending weapons to Kiev.
Russia sent troops to Ukraine exactly a year ago, citing the need to protect the people of Donbass and Kiev's failure to implement the 2014-2015 Minsk peace accords. Ukraine, meanwhile, accused Moscow of unprovoked aggression. Ceasefire negotiations effectively broke down by April 2022.
Chinese State Councilor Wang Yi traveled to Moscow this week, where he met with Russian President Vladimir Putin. Putin later said that he was expecting Chinese President Xi Jinping to visit Russia sometime in the future. (RT)
Azərbaycan24 sosial şəbəkələrdə