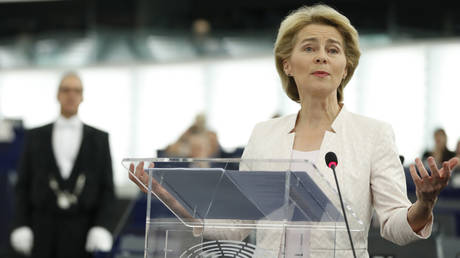 Von der Leyen's speech was contradictory and misleading, said Beijing's envoy to the EU FILE PHOTO © AP / Jean-Francois Badias
European Commission President Ursula von der Leyen's speech ahead of her visit to China was incoherent, contradictory, and misinterpreted Beijing's policies and positions, Chinese ambassador to the EU Fu Cong said on Friday.
"I was a little bit disappointed," Fu told the outlet CGTN. "That speech contained a lot of misrepresentation and misinterpretation of Chinese policies and Chinese positions. And I would say that whoever wrote that speech for President von der Leyen does not really understand China, or deliberately distorted Chinese positions."
Von der Leyen gave off the impression of realizing the importance of engaging with China on the one hand, but being "fearful of criticism, especially from hardliners in Europe and maybe even from the US," on the other, Fu added. Reading the speech it seems "as if two people are quarreling with each other, so there is no coherence."
"We do hope that in her visit to China and in her dialogue with the Chinese leaders, she will be able to understand China better," the ambassador concluded.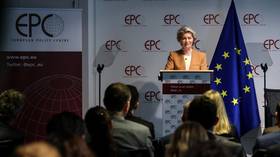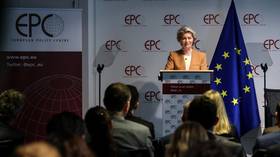 Von der Leyen is scheduled to accompany French President Emmanuel Macron to Beijing next week, where they are expected to meet with President Xi Jinping.
Speaking at the European Policy Center on Thursday, Von der Leyen said the EU needed to "stress-test" and "de-risk" its relations with Beijing, both political and economic, and argued that a "decoupling" from China was neither a viable strategy nor in the bloc's interest. On the other hand, she argued Brussels needed to be "bolder" in its approach to China, which she described as becoming "more repressive at home and more assertive abroad."
Von der Leyen also warned that the "determining factor for EU-China relations going forward" will be how Beijing "continues to interact with [Russian President Vladimir] Putin's war," meaning the conflict in Ukraine.
China has insisted on neutrality in the conflict, condemned the unilateral Western sanctions as illegitimate, and proposed a peace plan. The EU has fully endorsed the government in Kiev and supplied it with billions of euros worth of weapons, ammunition, training and other equipment.
Wang Luton, the director for European affairs at the Chinese Foreign Ministry, also commented on von der Leyen's remarks. He tweeted on his personal account that the EU "talks a lot about de-risking recently," but is actually creating risk by "linking trade with ideology and national security and creating bloc confrontation." (RT)
Azərbaycan24 sosial şəbəkələrdə