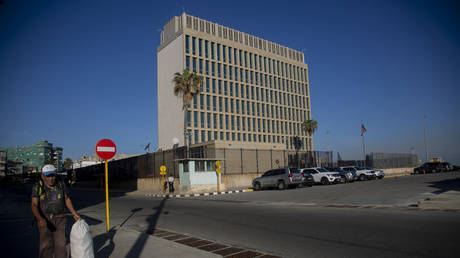 Beijing says Washington has a habit of making false allegations and "chasing shadows" FILE PHOTO: The US Embassy in Cuba is seen on the day of its reopening for visa and consular services in Havana, Cuba, January 4, 2023. © AP / Ismael Francisco
China has said it has no plans to build an "electronic eavesdropping facility" in Cuba, throwing cold water on a recent Wall Street Journal report citing US officials. The claims have also been dismissed by Havana and even the White House itself.
Asked about the WSJ report – which alleged that Beijing would use the spy base to monitor US military sites in Florida – Chinese Foreign Ministry spokesman Wang Wenbin said he is "not aware" of any such arrangement.
"It is well known that the US is an expert on chasing shadows and meddling in other countries' internal affairs," he continued, going on to state that the United States has "long illegally occupied Cuba's Guantanamo Bay for secretive activities and imposed a blockade on Cuba for over 60 years."
Published by the Journal on Wednesday, the story relied on anonymous US officials who were said to be "familiar with highly classified intelligence" about the "secret" plan. It said that China would pay "billions" to the Cuban government in exchange for rights to the surveillance facility, and that an agreement had been reached in principle.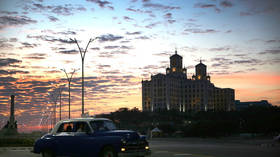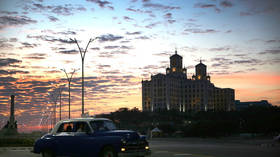 Cuban Foreign Minister Carlos Fernandez de Cossio in Washington also rejected the report as "totally mendacious and unfounded information," calling the charges "fabricated."
The WSJ story contains "fallacies promoted with a malicious intention to justify the unprecedented reinforcement of the economic blockade, destabilization and the aggression against Cuba, and to deceive public opinion in the United States and around the world," he added.
While the allegations purportedly came from American officials off the record, White House National Security Council spokesman John Kirby told Reuters the report is "not accurate," though he declined to specify any particular errors.
The Chinese spokesman went on to urge US officials to "stop interfering in Cuba's internal affairs under the pretext of freedom, democracy and human rights," and to lift a commercial and financial blockade on the island which dates back to the Cold War. (RT)
Azərbaycan24 sosial şəbəkələrdə