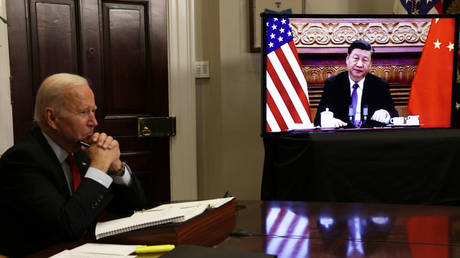 Beijing has accused Washington of violating agreements on the self-governing island's status US and Chinese Presidents Joe Biden and Xi Jinping hold remote talks in November 2021. © Getty Images / Alex Wong
The Chinese Foreign Ministry has demanded that the US torpedo its pending trade deal with Taiwan, arguing that such a pact would violate agreements on the self-governing island's legal status.
"China strongly opposes official interaction of any form between China's Taiwan region and countries that have diplomatic relations with China," ministry spokeswoman Mao Ning said on Thursday at a press briefing in Beijing. "That includes negotiating or signing any agreement of sovereign implication or official nature."
Mao made her comments in response to reports that Washington and Taipei were set to sign a trade agreement on Thursday. The deal aims to strengthen economic ties between the US and Taiwan and boost exports of American goods to the self-governing island.
China has insisted that its legal status over the breakaway province be respected.
US President Joe Biden claims his administration stands by the "One China policy," under which Washington has for decades acknowledged – without endorsing – Beijing's sovereignty over Taiwan. However, relations between the countries have deteriorated amid allegations of US meddling in Taipei. China broke off security and climate ties with Washington last August, after then-US House Speaker Nancy Pelosi made a controversial visit to Taiwan.
The new trade deal "gravely violates the One China principle and the three China-US joint communiques," Mao said on Thursday. She added that the pact also contravenes Washington's commitment to maintain only unofficial relations with Taiwan. "China has made solemn demarches to the US many times.
The US needs to stop official interaction of any form with Taiwan, refrain from negotiating or signing any agreement of sovereign implication or official nature with China's Taiwan region, and stop sending any wrong message to separatist forces seeking Taiwan independence in the name of economy and trade."
Mainland China and Taiwan have been estranged since Chiang Kai-shek's nationalist government fled to the island in 1949 after being defeated by communist forces. China has vowed to reunify with Taiwan, by force if necessary.
Mao suggested that Taiwan's ruling Democratic Progressive Party (DPP) is trying to solicit US support for Taiwanese independence under the guise of economic and trade ties. She called the strategy "just futile."
(RT)
Azərbaycan24 sosial şəbəkələrdə