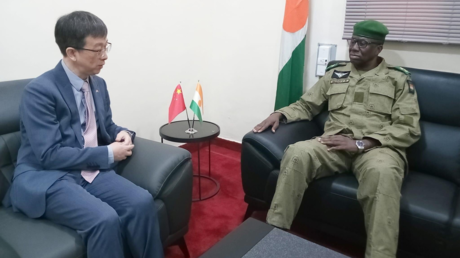 Beijing will play this role with total respect for other regional countries, Jiang Feng has said © Twitter / @General_Salifou
The Chinese government has announced its intention to facilitate a peaceful resolution to the Niger crisis, following a coup in July that triggered sanctions and left the country facing threats of armed action.
"The Chinese government intends to play the role of good offices, a role of mediator, with full respect for the regional countries," Jiang Feng, Beijing's ambassador to Niamey, said on Monday during a meeting with military-appointed prime minister Ali Lamine Zeine.
Feng stated that while China "stands with Nigeriens" amid the political situation, it remains committed to its principle of non-interference in the internal affairs of other countries.
Niger's military government has faced mounting regional and global pressure since the coup on July 26, which removed President Mohamed Bazoum from power and led to his continued detention.
The Economic Community of West African States (ECOWAS) has said that it will pursue all means necessary to restore constitutional order in Niger, including force as a last resort. Last month, the regional bloc said a standby force was ready to be deployed against the coup leaders if ongoing diplomatic efforts proved unsuccessful.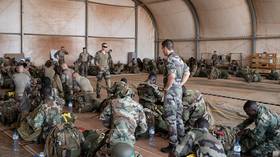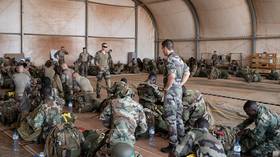 Read more
Niger expects quick French withdrawal – post-coup PM
Algeria announced a six-month transitional plan to restore constitutional and democratic order in Niger late last month, following the proposal of coup leader General Abdourahmane Tchiani to return the West African country to civilian rule within three years.
Algiers has repeatedly opposed a military intervention in Niger, including allegedly refusing a request from France to fly over its airspace for an armed operation in Niamey.
ECOWAS, which has imposed financial and economic sanctions on Niger, has rejected Tchiani's transition plan, calling the "prolonged" timeline a "provocation."
The United States, France, the Netherlands, and Germany have all halted some foreign assistance projects in Niger following the coup.
However, the Chinese envoy indicated on Monday that Beijing would continue all projects that were in the interest of the Nigerien authorities.
China continues to be a partner for Niamey in various sectors, including energy, oil, and infrastructure, with both nations collaborating on a significant 2,000-kilometer oil export pipeline project aimed at transporting crude oil from the Agadem fields in southern Niger to the port of Seme in Benin. (RT)
Azərbaycan24 sosial şəbəkələrdə