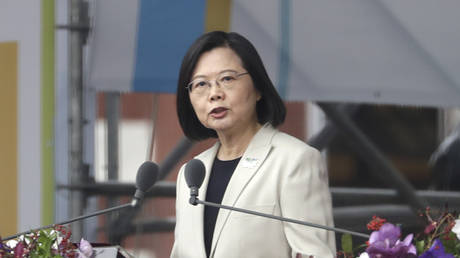 Beijing vowed to take countermeasures should the Taiwanese leader meet with the US House speaker FILE PHOTO: Taiwan's leader Tsai Ing-wen delivers a speech at the Presidential Building in Taipei, Taiwan, October 10, 2022. © AP / Chiang Ying-ying
Taiwan president Tsai Ing-wen is set to travel to the United States, planning a stop in New York and another in California, where US House Speaker Kevin McCarthy said he would meet with the leader despite warnings from China.
Tsai will depart for the US on Wednesday as part of a 10-day trip, which will also include visits to Belize and Guatemala, according to the president's office. She will also stop in Los Angeles on her way back to Taiwan.
While the politician has not confirmed any meeting with Rep. McCarthy, Taiwanese officials previously told the Financial Times that she would indeed sit down with the Republican lawmaker during her stay in California. The outlet noted that both sides were reluctant to publicize such a meeting to avoid triggering an angry reaction from China, which considers Taiwan to be part of its sovereign territory.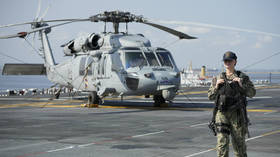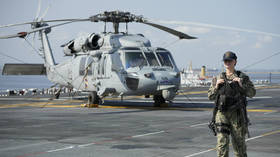 On Wednesday, a spokesperson for China's Taiwan Affairs Office, Zhu Fenglian, slammed the upcoming visit, saying that Tsai would not merely be staying in a hotel, but meeting with American officials.
"If she has contact with US House Speaker McCarthy, it will be another provocation that seriously violates the One-China principle, harms China's sovereignty and territorial integrity, and destroys peace and stability in the Taiwan Strait," she said, adding: "We firmly oppose this and will definitely take measures to resolutely fight back."
Though the spokesperson did not specify what kind of countermeasures would be taken, a trip by former House Speaker Nancy Pelosi last year triggered a harsh reaction from Beijing, which launched unprecedented military drills in the airspace and waters around Taiwan in retaliation.
Beijing has repeatedly urged foreign countries not to keep direct diplomatic contacts with Taiwanese officials, insisting it is part of its territory under the 'One China' principle. Only a handful of nations recognize Taiwan as an independent state, and though the US is not among them, American lawmakers regularly travel to the island for official meetings, while the State Department has approved countless rounds of arms sales to Taipei over the decades.
Washington had long maintained a policy of "strategic ambiguity" toward Taiwan, but President Joe Biden has largely abandoned that approach, declaring that the United States would come to the island's defense in the event of a Chinese attack – at times prompting walk-backs from his own subordinates. (RT)
Azərbaycan24 sosial şəbəkələrdə