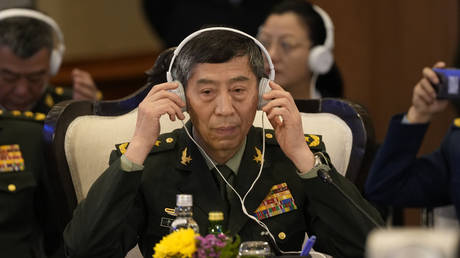 Beijing reserves the right to use force against the Taipei government, the defense minister said FILE PHOTO: Chinese Defense Minister General Li Shangfu during a meeting in New Delhi, India, April 28, 2023. © AP Photo / Manish Swarup
Beijing will "absolutely not" renounce the right to use force in reunifying with Taiwan, the country's defense minister, Li Shangfu, said on Thursday, as cited by the South China Morning Post. At the same time, the Defense Ministry voiced hopes for peaceful reconciliation while warning against foreign interference on the island.
During a Thursday press briefing, Defense Ministry spokesman Tan Kefei described the meeting Li had with his Singaporean counterpart, Ng Eng Hen, earlier in the day. He said that the officials discussed Taiwan, which Beijing considers part of its sovereign territory.
"We will never tolerate any attempt by the Democratic Progressive Party authorities to seek foreign support for Taiwanese independence, nor will we tolerate any attempt by external forces to use Taiwan to contain China. We will absolutely not promise to renounce the use of force," the spokesman said, referring to Taiwan's ruling party.
He added that Beijing would "continue to strive for peaceful reunification with the greatest sincerity and greatest efforts."
The US revelead earlier this week that Li, who is on Washington's sanctions list, had declined a meeting with Defense Secretary Lloyd Austin on the sidelines of the annual Shangri-La Dialogue security forum in Singapore. The Chinese Foreign Ministry explained that the US must "correct" its policies towards China and stop meddling in its affairs.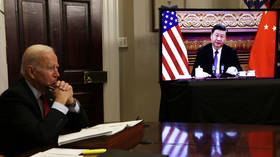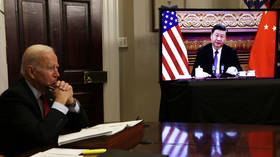 Read more
China rebukes US over Taiwan trade deal
Asked about a possible meeting between Li and Austin on Wednesday, the Chinese Defense Ministry stated that while it "attaches great importance to the development of Sino-US military relations," there could not be dialogue "without principles."
"On the one hand, the US keeps saying that it wants to strengthen communication, but on the other hand, it ignores China's concerns and artificially creates obstacles, seriously undermining the mutual trust between the two militaries," the ministry spokesman added.
Austin, who had previously described China as "a pacing challenge" for the US, said on Thursday that a high level of communication between the two countries can help "prevent things from spiraling out of control."
The US and China have accused each other of stirring up tensions in the Taiwan Strait and weaponizing trade relations in order to coerce others. On Tuesday, the Pentagon claimed that a Chinese fighter jet was conducting dangerous maneuvers close to an American reconnaissance aircraft. Beijing has rejected this claim. (RT)
Azərbaycan24 sosial şəbəkələrdə