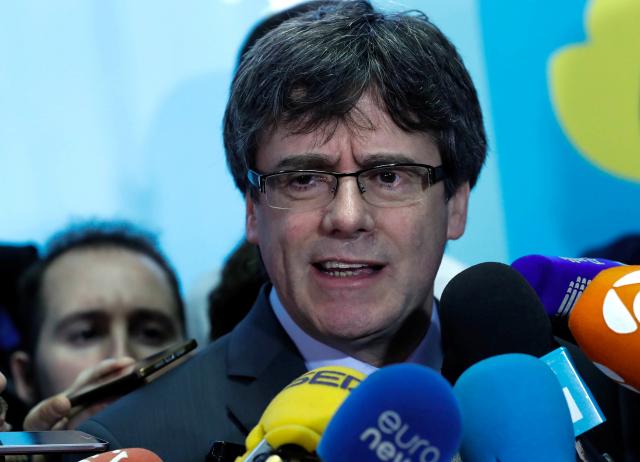 Former Catalan leader Carles Puigdemont has handed himself into Belgian authorities after Spain issued a new warrant for his arrest.
Mr Puigdemont – the former president of Catalonia – has been living in self-imposed exile in Belgium to avoid charges of sedition against the Spanish region, as well as misuse of public funds.
The charges were brought against him by prosecutors for his role in Catalonia's failed unilateral declaration of independence in 2017, after which he fled the country.
His office said that he had "in the company of his lawyers, voluntarily appeared before Belgian authorities".
A statement said he rejected the warrant, and any attempt to bring him back to Spain to face trial.
Puigdemont was released on bail after his appearance before authorities at the Palace of Justice in Brussels, the Belgian capital's main law courts.
It comes days after Spanish courts sentenced nine of his former colleagues to prison terms for their roles in the episode.
Catalonia, and its capital Barcelona, is currently paralysed by a mix of strikes and protests, which have continued for five days after the sentencing of the politicians.
More than 200 people have been arrested and scores injured in clashes. Demonstrations were mostly peaceful and calm yesterday but a confrontation occurred with protesters in the afternoon, outside police headquarters in central Barcelona.
Many shops and factories in the region did not open for business and rail services were seriously curtailed, while at least two large cruise operators diverted their ships to other ports.
Prime minister Pedro Sanchez has said authorities will prosecute radicals who rioted this week, while ensuring that peaceful protests can continue without incident.
"The rule is clear," Sanchez told a press conference in Brussels, where he was attending an EU summit alongside other leaders. "Those who break the law have to answer for their deeds sooner or later."
Mr Sanchez faces a general election on 10 November this year, which he called after political deadlock prevented him from forming a coalition government. It will be Spain's fourth general election in as many years, and the second in 2019.
The Independent