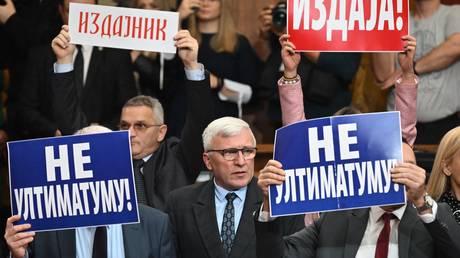 President Vucic is caught between pro-NATO parties and nationalists accusing him of treason A group of MPs hold banners reading "No to the ultimatum" and "Treason" as Serbian President informs MPs about the latest negotiating process with Kosovo during a special parliament session at the National Assembly building in Belgrade on February 2, 2023. © ANDREJ ISAKOVIC / AFP
Several members of the Serbian parliament scuffled and almost came to blows on Thursday, amid a speech by President Aleksandar Vucic about the Western proposal concerning the breakaway province of Kosovo.
"I have never seen such savages, this is incredible, shame on you," Vucic said from the podium as lawmakers almost came to blows.
The fracas broke out after Vucic said he intended to keep negotiating with the US and the EU, while staying loyal to the "Holy Writ" of the Serbian constitution.
"I will always choose the Constitution, but I will fight as long as I can, I refuse to isolate Serbia and have our people suffer, to play the hero on someone else's back or be the donor of someone else's blood," Vucic said.
Several members of the nationalist opposition held up printed signs that read "Treason" and "No to capitulation!" Meanwhile, the pro-Western parties insisted the government should recognize Kosovo as independent and impose sanctions against Russia.
At issue was the Franco-German proposal for Kosovo presented to Belgrade last month, which still hasn't been made public. That hasn't stopped the lawmakers from describing it as either an unacceptable ultimatum or an offer Serbia can't refuse.
Leader of the New Serbian Democrats Milos Jovanovic called it a carbon copy of the 1972 Two Germanies pact, saying that it would in practice lead to the establishment of "Greater Albania" and the total disappearance of Serbs from the province. The plan cannot be amended and needs to be rejected entirely, Jovanovic argued, while the Democratic Party's Zoran Lutovac insisted it was not actually an ultimatum and should be accepted.
Marinika Tepic of the Freedom and Justice Party called on Vucic to "harmonize foreign policy with the EU and sanction Russia … to avoid sanctions being imposed on us."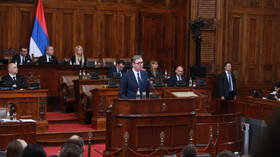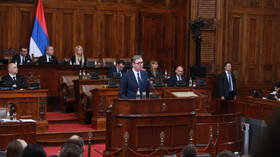 Read more
Serbia outlines stance on NATO membership
Vucic's ruling coalition has 155 seats in the 250-member Narodna Skupstina, so he seemed to have enough support for whatever he decided to do. Serbia will not join NATO, he argued, but it can't prevent the US-led bloc from admitting Kosovo.
NATO took control of the province after months of bombing Serbia in 1999 on behalf of an ethnic Albanian insurgency. The provisional government in Pristina declared independence in 2008, with Western support. Backed by Russia and China, Belgrade has so far managed to resist pressure to recognize Kosovo.
Vucic blamed the Democrat-led government for "giving away" Kosovo, calling some opposition lawmakers "thieves and traitors" amounting to an "anti-state coalition." He also insisted he hadn't signed anything yet.
"I am not for Kosovo in the UN and I will never recognize an independent Kosovo," he repeated several times.
Meanwhile, nationalist group People's Patrol has called for a mass rally outside the presidential offices on February 15 – a state holiday celebrating Serbia's first constitution – to "take down the treasonous Vucic regime" and reject any kind of recognition of Kosovo. (RT)
Azərbaycan24 sosial şəbəkələrdə