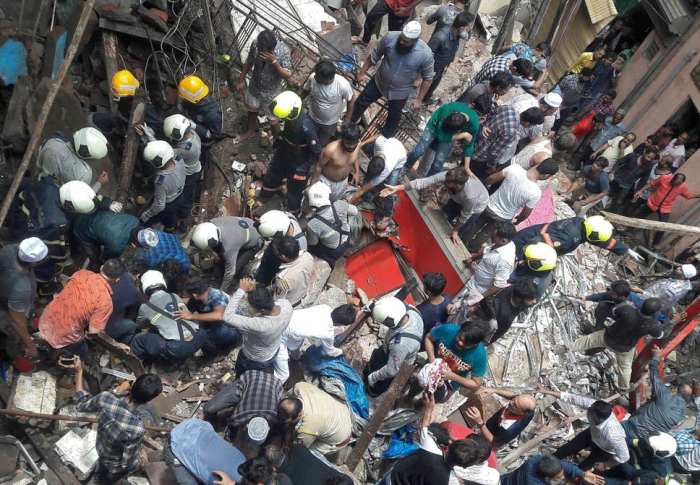 A four-storey building has collapsed in a densely populated neighbourhood of Mumbai amid monsoon rains in India, killing at least two people after trapping more than 40 in the rubble.
Fire service officials said the residential building came down in the Dongri area of the city, India's financial and entertainment capital, and that a search and rescue operation with sniffer dogs was under way.
Local residents told NDTV they believed the building to have been around 70-80 years old. "The building crashed with a heavy sound and we thought there was an earthquake," one told the channel.
Fire official Ashok Talpade said three people had been pulled from the wreckage so far and rushed to hospital, but that it was slow going.
He said the building was located in a narrow lane in a congested area, making it difficult to access with heavy machinery.
Television footage from the scene showed people forming a human chain to remove pieces of rubble by hand.
Mumbai has been hit by several fatal wall collapses this year during the monsoon rains that come annually between June and September, as the city's poorly-designed infrastructure struggles to cope with the downpour.
It comes as the Indian government said around 3.7 million people had been displaced from their homes by rising flood waters in the northeastern states of Bihar and Assam.
At least 130 people are estimated to have died so far this year across India, Nepal and Bangladesh due to the monsoons. More bad weather is expected in the coming days.
Assam's chief minister told reporters the state was "on a war footing" trying to get the flooding under control. "The flood situation has turned very critical with 31 of the 32 districts affected," Sarbananda Sonowal told reporters.
The water levels rose rapidly overnight as the Brahmaputra River, which flows down from the Himalayas into Bangladesh, burst its banks.
Authorities said the Kaziranga National Park in Assam, home to the rare one-horned rhino, was almost completely underwater.
In neighbouring Bihar, television channels showed roads and railway lines submerged, with people wading through chest-high brown waters carrying their belongings on their heads.
In Nepal, 64 people were killed and 31 were missing, with around a third of all districts hit by heavy rains, authorities said. Many of the deaths were caused by landslides that swept away houses.
And in Bangladesh, floods forced an estimated 190,000 people out of their homes, government officials said, as at least 29 people were killed in the past week.
Aid agencies operating in the vast Cox's Bazar refugee camps, where some 700,000 Rohingya Muslims have fled violence in neighbouring Myanmar, have been warning for some time of the deadly impact the monsoons would likely have on the makeshift homes there.
More than 100,000 people have now been displaced, and two people – including a child – have died in flooding and landslides that began in early July, Human Rights Watch said.
The Independent